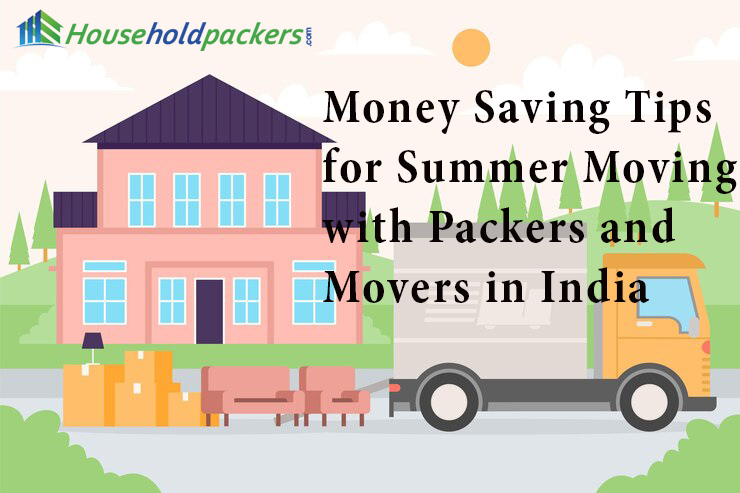 Fill in Your Inquiry
and we will connect you to the Best Packers and Movers
For many people, summer is the best time to move to a new home because kids are out of school and there is more sunshine outside.
We know that shifting your house is quite a hectic and stressful process for everyone. The problems increase when you are planning or preparing yourself for shifting your home in the summer because there is extreme heat and higher levels of humidity. It will be more dangerous also when we shift our house in this extreme heat. You may suffer from sunstroke. So, plan your shifting home if possible before the month of May. At that time the weather is pleasant and there will be no extreme heat outside and you will not feel sick also. Also this is the season when the demand of the packers and movers significantly increases because most of the families choose this time to relocate.
If you want to save yourself from the heat and save money then our moving tips will help you and you will make your summer relocation hassle-free.
Prepare Mentally -

Firstly you have to prepare yourself for the shifting process. Once you are mentally prepared then everything will go smoothly. Then the climate barriers will not be an issue anymore. It is harder to prepare yourself. Once things are sorted your half of the work will be done and half of the work will be done by professionals.
Plan your things beforehand -

When we know shifting is costly, in that case never schedule your shifting in a hurry. you have to avoid the sifting as much as possible, if it's an emergency then you can. But you have to avoid it until you come up with something. If you are aware that after a few months you are going to have a transfer or you have to face a transfer process, start planning after knowing about your transfer. This way you will get the best solution. You will get time to choose the service provider and will also help you in choosing the stuff which you want to carry to your new house. Never disclose the right date of the transfer, if the service provider knows about your urgent requirement, and they will definitely charge more from you, after seeing your urgency of the transfer. And at that point in time, you will feel helpless, and you will get another option and then you have to pay a lot. So, schedule everything before

household shifting

, so that everything goes in your favour.
Choose Early Morning -

When you are relocating the house in the summer season then always choose the early morning time for the shifting. At that time heat will be less and you will get more fresh air and you are fresher also. In the morning, things will be sorted very soon and easily.
Discard and sort the items -

One of the top most requirements of planning to move is to sort out a few things. This means separate the things which are not required in the new house and which are required. Make two different sections of the things. Practically speaking, always carry lesser things with you, so that you don't have to pay much. It is better to sell out the older stuff and the things which you haven't used for a long time and there is no chance to be used in the future. This way you will be able to reduce your load and you will be able to save money also. By selling the old stuff you will get some money also or you will get some extra pocket money. Also, you can donate things.
Comfortable Apparels -

The summer season is one of the best and wonderful seasons that can give you a great experience of home shifting. In this season when all young family members are on holiday you will get a lot of helping hands also. But the difficult part of the summer season is hot winds and hot waves. For that, you need to wear some comfortable clothes and these clothes will give you some relief from the heat. Always wear cotton clothes and easy clothes. Always go for light colours in summer. Also, you can wear sunglasses and sunscreen lotions which will give protection to your skin also.
Prepare for Health -

Whenever you plan for something, always be careful about the planning process. Learn about the pros and cons of the situation and then plan. If you are planning for summer shifting then it is important to prepare for your health first. Take all the precautionary items that will be required in the summer illness. Prepare your water containers and water bottles ready because they will keep you hydrated and Drink lots of water. After every 15 -20 minutes drink water. Wear hats, this will help you in avoiding the sun rays. Don't take coffee and alcohol when the shifting has to be done. Shift when the heat is low. Morning is the best time for shifting. Prepare some medical kits also.
Packing precautions -

When packing the household items on your own then you must follow packing precautions. Always make separate carters of household items and valuable items because valuable items might get damaged due to extreme heat. Things which have to be separately packed like phone, chargers, laptop, tablets, Led, etc.
Always Choose the shortest route -

If you don't want to waste your day travelling during the hot summer day then do some research and talk with your

Packers and Movers

about the best route. Try to figure out two or three different routes to the desired destination and always choose the shortest route for your delivery. Also you need to maintain the communication with your driver and moving specialists so that you can receive regular updates of your goods. This way you will reduce some amount of time spent in the sun during the summer and you can save yourself from the heat.
You Might also Like :
Recent Blogs