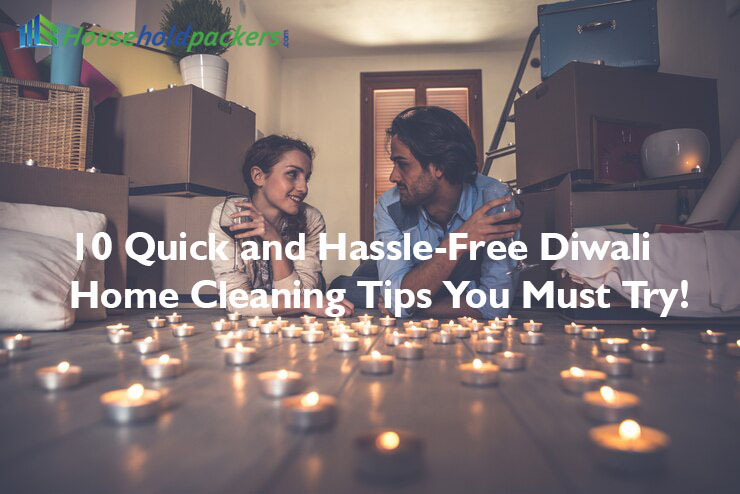 Fill in Your Inquiry
and we will connect you to the Best Packers and Movers
Diwali is about celebratory moods, guilt-free treats, and brightly lit streets. That pressure to prepare your home for Diwali comes along with the most awaited celebration in India. In this article, are some Home Cleaning Tips helpful for you?
As per Indian custom, Lord Ganesha, as well as Goddess Lakshmi, are honored during Diwali. Due to their intimate ties to happiness and money, people worship gods for prosperity and fortune in their lives and homes (Shubh Labh). Because the gods solely visit clean homes, Diwali cleaning is essential.
10 Hassle-Free Diwali Home Cleaning Tips
1. Begin Diwali cleaning early
It is challenging to clean an entire house. It takes more than one room to clean a house. This involves cleaning the entire home, including the kitchen, bedrooms, living room, and puja room. Breaking it up into two or three sessions makes completing this activity feasible without being worn out. After finishing the bathroom cleaning, you can undertake the kitchen clean-up the next day. One could clean your living room and bedroom in one day, and then one could finish the cleaning on another day. It is crucial to schedule it in a calendar plus adhere to it.
2. De-Clutter
Whenever you clean your house for Diwali, get rid of the clutter. Get rid of anything you haven't utilized in the past two years or that you believe serves a unique purpose. If you leave too many superfluous or undesired objects around, your home might appear unkempt and disorganized.
3. Polish the flooring
You could clean your floors with brooms, torn or old clothing, vacuum cleaners, or sweepers. The floors could be cleaned using any of the bathroom cleansers that are on hand. You can also employ baking soda.
4. Keep the bedroom tidy
A quick hack for home cleaning is to remove all the furniture and then dust the ceiling and walls. Pillow and cushion coverings, duvets/bedspreads, rugs, and curtains should all be washed. To disinfect surfaces, use a cleaner. To wipe all glass surfaces, are using a soft cloth or an old piece of newspaper.

Additionally, windows and doors need to be cleaned. Your pillow, mattress, as well as cushion fillings should be left outside for a full day to dry in the sun. When dust mites are present, it will aid in their removal.

Your closet should be cleaned, and then all of your clothing should be removed. Three piles can be created: repair, wear, and donate. Once you've finished sorting the piles, return to the wear category and sort the apparel by occasion and colour.

Donate any clothing that doesn't fit your closet or that you don't wear anymore. After cleaning, you could use naphthalene or camphor balls within your wardrobe to prevent mites at bay.
5. Polish ornaments made of brass
Although brass is attractive, it tarnishes easily. To clean brass vases, lamps, and idols, combine salt (1 teaspoon), vinegar (1/2 cup), and flour.
6. Remove all candlesticks and glass lamps
Remove old candles as well as any wicks from candleholders. While adding hot water, let the holder sit for 2 hours. A blade or knife can eliminate excess wax residue on the edges.
Utilize detergents plus warm water to get rid of other stains. Any residual wax is easily removed by adding hot water to the holder. Glassware should be dried upside-down utilizing tissue paper or cloth after being drained of water.
7. Diwali Kitchen Cleaning
Planning is necessary while cleaning the kitchen. Kitchen tiles are just one of many items that cannot be completed in a single day, along with elegant crockery and chimneys. To get the job done fast, it is best to divide it up.
Get rid of outdated or expired ingredients and any equipment that is no longer in use. Clean up the racks and boxes afterward. After that, wash the bowls as well as the dishes. Use shelves, organizers, and hooks to keep cups, mugs, and other crockery. To tidy your fridge, empty it and scrape it with vinegar and a cloth.
8. Bathroom
Remove anything that may be removed, such as buckets, soap, shampoo, scrubs, body washes, etc. Start by using a liquid cleanser to clean the shelves. Scrub the inside of the toilet with toilet cleaner and leave it alone. Clean the faucets, basin, shower head, and mirrors. Finally, clean the floor with a disinfectant, plus, when necessary, use bleaching powder.
9. Curtains & covers
This is the time to wash your bathroom's curtains, pillowcases, bedsheets, and sofa covers after you've done cleaning them. It is simple. You only need to keep in mind not to wash everything at once.
Separate them: On the second day, start with the curtains and go to the sofa covers and other items. You can then wash the goods according to your chosen washing procedure. When thoroughly cleaning the house, you can adorn it with decorative lights, starry lights, and other items.
10. Keep in mind your home's exterior too
Although the house's interior might be neat, your guests' initial impression will be formed by the exterior. Don't disregard the requirement to waterproof or mend exterior house walls. Remember to wipe the outside of your walls. You could also paint your home's external walls since paint gives your house a beautiful, deep luster.
Conclusion
Diwali cleaning may be a stressful task. With the help of these Home Cleaning Tips, you may thoroughly clean your house and get in the holiday spirit, home shifting before Diwali. Brace up for a safe ride with householdpackers.
Recent Blogs