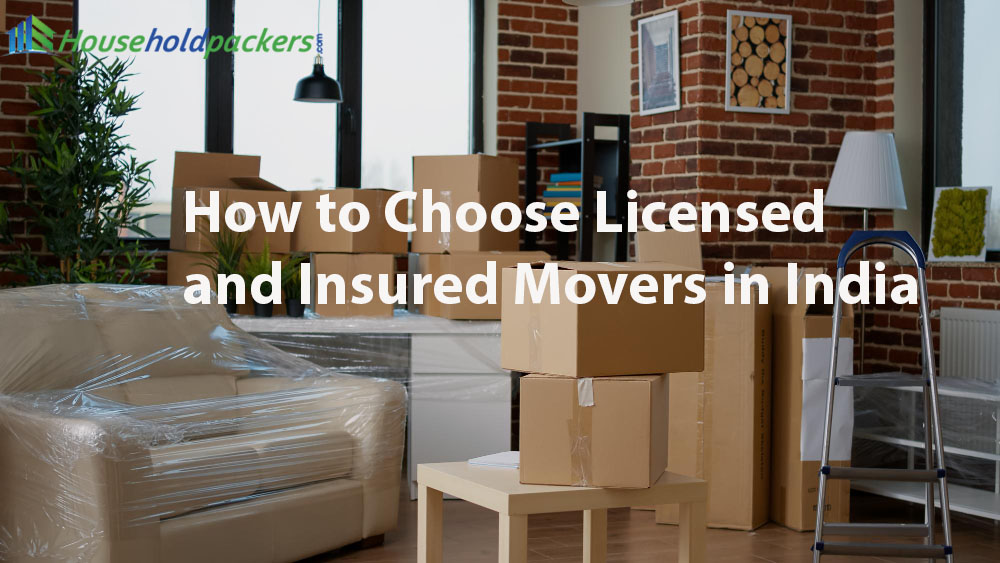 Fill in Your Inquiry
and we will connect you to the Best Packers and Movers
The process of relocating your home or office certainly becomes a smooth process when you enlist the services of professional packers and movers. However, it is necessary not to opt for dubious companies because such companies are likely to damage your goods or lose items without any accountability. The key is to pick the Best packers and movers near me to ensure that your goods are delivered safely and sound on time.
Many factors must be considered when looking for packers and movers to get a genuine and efficient home or office relocation company. It is imperative to choose only licensed movers in India for carrying out the process of packing and moving. It is also essential to hire only insured movers in India.
Licensed Company
The type of license issued to a moving company depends on whether it operates within the state, throughout the country, or even in foreign locations. When we talk about licensed movers in India, we refer to the moving companies with the mandatory license from the Department of Transportation. To work in the moving industry, this license is necessary under law.
Your goods are not safe with unlicensed movers. Thus, you need to look only for licensed movers in India. Checking the company's license yourself instead of taking the company at its words is recommended.
IBA Approval
IBA stands for Indian Banking Association which has 249 banks and financial institutions as its members. Many major banks such as SBI, Central Bank in India, Union Bank of India, UCO Bank, IDBI Bank, Federal Bank and many others make up the managing committee of IBA.
IBA approved packers and movers are those moving companies that the association recommends to its member banks. Such packers and movers have the necessary registration and license, which undergo a verification process by the IBA. IBA approval is granted only after the packers and movers match the specific standards IBA determined.
The main advantage of hiring IBA approved packers and movers is that you can rest assured that the company is licensed and registered. Furthermore, you can be sure about the high-quality services such a moving company rendered. The Best packers and movers in India are usually IBA approved.
The IBA approved packers and movers have specific registration codes issued to them by the IBA. Thus, checking the IBA registration code of a company claiming IBA approval is recommended. Checking the date till which the registration is valid is also important.
Insurance
It is important to hire insured movers in India to compensate for your financial loss in case of loss or damage to your goods during the shifting process. Even though professional packers and movers exercise every caution to pack and move goods to prevent damage or loss, accidents can result in loss or damage. An insurance cover offsets your financial loss.
In order to ensure to hire only insured movers in India, it is necessary to check the company's insurance documents and seek complete details of the insurance coverage being offered for your goods.
Cost of the Moving Services
The Best packers and movers charge high rates for packing and moving. In fact, IBA approved packers and movers have the highest price quotes among all packers and movers. However, the quality of services such companies provide more than justifies the costs because the process is completed swiftly and efficiently.
Opting for packers and movers offering very low price quotes should be avoided. This is because such companies are likely to inflate the cost in the middle of the process on various pretexts, add hidden charges to the bill, and damage or lose items during the process.
Thus, spending more money on insured and licensed movers in India is better than entrusting your goods to a cheap but unreliable company.
Features of the Company
The Best packers and movers have many years of experience. They have access to the best quality packing materials, skilled and trained workmen, large fleets of transport vehicles, specialised loading and unloading equipment, track record of punctual deliveries and both local and interstate home shifting services with some companies even offering international relocation. Checking all such features is recommended.
Transparent pricing is another important feature of the best packers and movers. The price quote provided by the company based on a pre-move survey must have a complete breakup of the cost estimate, including the insurance cost, GST, and cost of added services if chosen.
Multiple Price Quotes
Shortlist 4-5 reputed packers and movers and allow them to survey your goods to determine price quotes. Compare the price quotes given their services.
Conclusion
Undoubtedly, doing business only with insured and licensed movers in India is the right course of action. It is essential to avoid fraud moving companies regardless of the offers they may advertise.
Recent Blogs