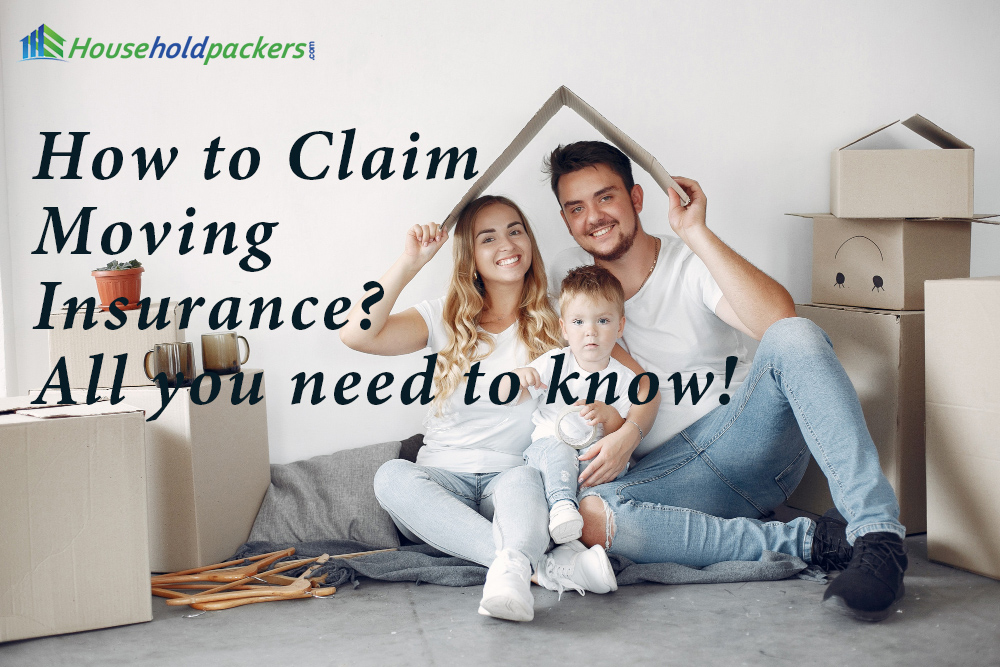 Fill in Your Inquiry
and we will connect you to the Best Packers and Movers
Relocation is not an easy and simple process even when you hire reliable packers and movers. In relocation your household belongings are always at risk. Nowadays packers and movers offer you moving insurance. Whether you are moving locally, domestically and internationally. Every individual wants to know about how your belongings will get protection for loss, damage etc.
If you want to make your relocation hassle-free, stress-free and damage-free then you need to go with the licensed packing and moving company who offers you moving insurance. So before moving further you want to know about the moving insurance.
What is Moving Insurance?
Moving insurance is a type of protection which gives protection to your personal and commercial goods at the time of relocation from one destination to another through some specific mode of transportation such as rail, road and air. This gives protection from loss, theft, damage from mishap such as fire, earthquake, accident, robbery, explosion etc.
There are various types of moving insurance nowadays moving
companies provide to their customers such as cargo insurance, international insurance, storage insurance etc. so before hiring any packer and mover for shifting it is important to check what sort insurance company provides. It is important to go through all the terms and conditions of the insurance policy before availing their services. If a moving company provides you insurance then don't forget to take the original insurance certificate and original bill from the packers and movers.
If you have decided to hire a professional packers and movers and avail their moving insurance for the safety of your goods, then it is important to know what types of goods are covered under the moving insurance.
Furniture
Electronic items
Kitchen appliances
Home appliances
Other heavy equipments
Items such as jewellery, medicines, cash, antiques pieces, glassware, and food items are not covered under the transit or moving insurance.
Now the question arises: what is the need of moving insurance ?
Main purpose of the moving insurance is to ensure that your household and commercial goods get safe at the time of transit. Sometimes a few unfortunate incidents occur due to which we have to bear some financial losses. Protect yourself from these situations you need to take this transit protection or insurance coverage. Moving insurance cost will be calculated on the basis of your value of goods to move and the insurance plan you selected for your move. If you need only protection at the time of transit then transit insurance will be a good opt. And if you want your goods to get fully protected then you can take the all-inclusive insurance.
Moving Insurance charges
The basic charges of the moving insurance is around 3% of the declared value. Customers can ask for the moving insurance claim of maximum 80% of the declared value if their goods are lost or damaged during the transportation.
Types of Moving Insurance
Packers and movers offers two types of moving insurance:
Transit Insurance: This insurance is the best moving insurance which is offered by most of the moving companies. In this insurance goods get coverage from damage which occurs during the transit. The company will not cover damage which occurs before or after the transportation. This type of insurance gives protection against fire, accident, explosion, etc.
All-Inclusive Insurance : All-inclusive insurance covers your household goods and commercial goods throughout the relocation process from packing to unpacking. This insurance is quite expensive as compared to transit insurance because in this everything gets protection and movers & packers have to pay a fair amount for the damage.
Note: Always purchase insurance from the licensed and professional packers and movers near me. Before purchasing the insurance, do proper background research of the company and verify all insurance documents before purchasing. Don't forget to take the original insurance certificate and bills.
Types of Insurance Protection
There are two different kinds of insurance protections which moving insurance companies provide to their customers:
Full value protection: In this protection, the moving company will provide cash settlements, repair of insured damaged items, replacement coverage, etc. which are lost or damaged.
Declared value protection: Under this the insurance amount can be claimed only for those household goods which are covered under the insurance policy. For that people have to declare the actual value of their household goods and the moving insurance charges will be calculated accordingly.
Document required at the time of moving Insurance claim
Before claiming the moving insurance. An individual have to submit the following documents:
Original invoice of goods
Landing Bill
Shipping Details
Signed claim form
Insurance Documents
Procedure for the moving insurance claim from the packers and movers
Every company follows its own set of rules and procedures for insurance claims. Here are few basic and common procedure :
Allow the moving company professionals to do the packing.
You need to submit an insurance claim within 14 days of the delivery via courier or email.
Also you need to attach photographs of your damaged items and its packaging with your insurance claim form. So that there will be clear proof of the damage.
After receiving the evidence, inspection will be done by the insurance company agent.
Avoid opening the packaging of damaged goods. Sometimes moving companies will claim that the damage was done by you or the damage occurs at the time of opening or moving of the parcel or goods. In this case, sometimes the claim gets rejected and you have to bear the losses.
Steps for moving insurance claim
At the time of unpacking you notice there's something damaged after being delivered to you by the moving company, then you need to ask for the official insurance claim from the company.
First you need to click the latest picture of the damaged goods and then Submit the old picture of the goods with the latest photographs of the damaged items as evidence and also you need to submit the other documents.
Then you need to Submit the invoice of the damaged goods.
After submitting the above documents and pictures with the moving insurance to the company.
Now the insurance company will go through all the evidence and then they will respond to you within 7 business days and inspection of the damaged goods will be done in that period of time.
When the insurance service provider or the moving company inspection is done, then they will collect the damaged package or items within the next 5 working days for the inspection.
In case your claim is accepted, then you need to fill an insurance claim form and send it back within 14 days. Attach the invoice of the repair charges if your damaged items can be repaired.
If your application is rejected, then you have to submit more evidence so that your application is accepted.
You Might Also Like :-
Griha Pravesh Muhurat in 2022: Best dates and timing to move into a new home
Best Tips on How to Reduce Home Shifting Charges
10 Best Ways to Prevent Dampness on Walls During Monsoon
5 Tips for Packing Kitchenware Safe for Shifting
Recent Blogs