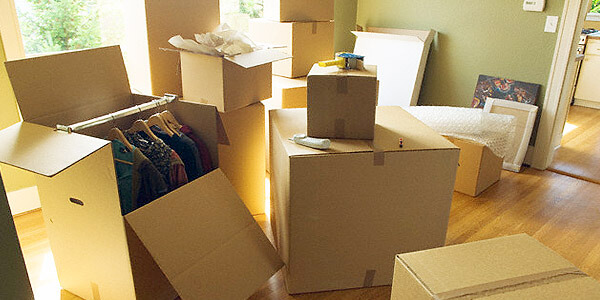 Fill in Your Inquiry
and we will connect you to the Best Packers and Movers
When it comes to home relocation in India, choosing the moving services at low cost becomes a very first priority of the individual/ family. Irrespective of the fact that whether you're bored of that place or shifting because of any other reason, shouting a big NO to scam should be your first priority. But, operating your intelligence well to find a precise difference between scammers and non-scammers is a crucial chunk. And, these four top notch imperative tips will surely help you recognise a proper distinction.
• As the excess of everything is bad. Thus, companies with over enticement and upfront claims of their better insurance policies may try well to trick you.
• If the company's vehicles (pickup vans, trucks etc.), doesn't have any definitive logo or name. Or, a company is not registered under Ministry of Corporate Affairs (MCA) - Government of India. These all are clear signs of Scams.
• Even after a number of requests, companies don't provide its official head quarter's address, contact information etc., you need to take care of yourself in this case. And, even if it avails all details, make sure to cross check each and everything before handing over a hefty amount to them.
• Before delivering the services or completion of a task, if the company demands colossal deposit of money upfront, make sure to throw a clear-cut NO at them. As these companies are likely to run away with your money.
With these four tips to get rid of scam in your hands, here's another crucial straight advice - Just try to fend off new companies, as trust always increases with time cum experience. Besides looking at cheapest packers and movers in your city, safety and security of your luggage are equally important. And, needless to say, finding a trustworthy and reliable relocation at low prices is obviously time-consuming procedure.Moreover, once trust is built, you can get other services too. Many packers and movers companies also provide sofa cleaning, plumbing, plants, home cleaning, painting, carpentry, electrical, pest control and AC repair services as well.
And, things become more and more confusing, with hundreds of house shifting companies options in hands with equally low prices. And, this happens mainly in major metropolitan cities of India i.e. New Delhi, Mumbai, Calcutta, Bangalore, Hyderabad, Chennai, Ahmedabad, Vishakhapatnam and Surat etc. Relying just on Google, Yahoo, Bing or any other search engine's SERP result is not a straightforward solution.Rather, you'll have to look out for more and dig deeper by
• Visiting individual websites.
• Cross-checking whether their company is officially registered or not?
• Looking at working experience of a company and spending time with their contact details.
• Giving a manual visit to main headquarter of the company.
• Try to give sole responsibility to any single head as too many cooks spoil brooth.
• If possible, as the company for a demo. Or, inquire thoroughly about their past works.
Following above-given steps will save you from frauds and maximise the chances of getting packers and movers services at lowest possible prices. As revealed, directories and search engines, many of the times are based on paid promotion, monetisation and SEO (Search Engine Optimisation most of the time). Thus, take care before any giant step. Though most of the packers and movers companies will tell you that they include -
• Outstanding all-around movers and packers indictments.
•Admirable package based insurance.
•Attainable local packers and movers charges
•Low cost and economical rate for household relocations.
•Manual existence while scrutinising.
•Exemplified negotiations.
Yet, you need to do in-depth research analysis of the subject before continuing. Generally, admirable companies with excellent authorities never provide their services at extremely low cost. Indeed, that is the reason why every next four wheeler owner doesn't have Ferrari and Lamborghini. Associating the fact with the subject, packers and movers companies that targets both national and international markets, will no doubt provide one of the best services on the planet, but not at low costs. In maximum cases, the consumer has to sacrifice anyone out of lowest possible prices or exceptionally well essence. In the whole lot of luggage packing and moving home shifting in india exercise, statistics suggest people keep item safety and precaution on first priority and price-effective features on second. Thus safety over the budget behaviour of the consumer has forced almost all companies to provide a crucial facility i.e. INSURANCE. If any item gets broken or damaged, a company will be held responsible for the replacement/ restoration. Relocation companies that are not providing insurance claim facilities are having the darkest future of all. Thus, in the hunt of low price home shifting in india Company in your city, don't compromise the paramount aspect of home shifting procedure i.e. insurance claims. In general, once packing procedure starts, shifting the luggage with entire consternation becomes the responsibility of the company.
Further, if any damages are contemplated, the consumer can file a written claim about their deprivation. And, usually, within 30 days of receiving a claim, the company should make a settlement. And, congratulations, now you have another utmost relevant reason to have an in-depth analysis of past works of the company. This will let you know how many insurances claims a company has received. And, lesser the claims, better the services. In short, no doubt, packers and movers market in India is filled with rich names, poor services kinds of companies. But at the same time, Individuals/ Families involved in thorough research of eight most important corners of complete procedure i.e.
• Packaging
• Loading
• Transportation
• Unloading
• Insurance Facilities
• Car Carriers
• Local Shifting, and
• Unpacking and Adjusting
Will never be failed to meet the best requirements. An average adult after going through a number of market deals in India may have come across a situation in which argument has been raised because of miscellaneous charges. Yes, we are talking about additional charges that are generally not cited in the citation before consumer and service providers shake the hands.
Guess what, such cases are not so rare in packers and movers market. Thus, having a clear-cut conversation of total charges with written proof on the legalised document is necessary. Though in most of the cases, deals with home shifting companies are finalised only after the new house is complete. Yet, in rare cases, when there are chances of delay in the due date of completion of a new home just throwing a quick query "Can you offer temporary storage?" is free of cost.

Whether the household shifting charges company is renting a transportation vehicle or having its own? Although this question doesn't matter much in a whole lot of conversation. Yet this query reflects consumer's intelligence, awareness and caring attitude towards his/ her household items.
The most important facet of packaging quality is a precise use of new carton, wraps and other packaging materials. Amongst all the important questions, most discussed and crucial to go through should be - Who'll be responsible for the loss even if the best shifting company fails to meet the deadline. Just knowing about the payment terms will not solve the purpose. Failing to meet the deadline is not a new thing for lion's shares of companies in movers and packers industry. The trait of a good company also includes the quality that, the dealer should easily be able to convince how he/ she reached that quote ?
Recent Blogs