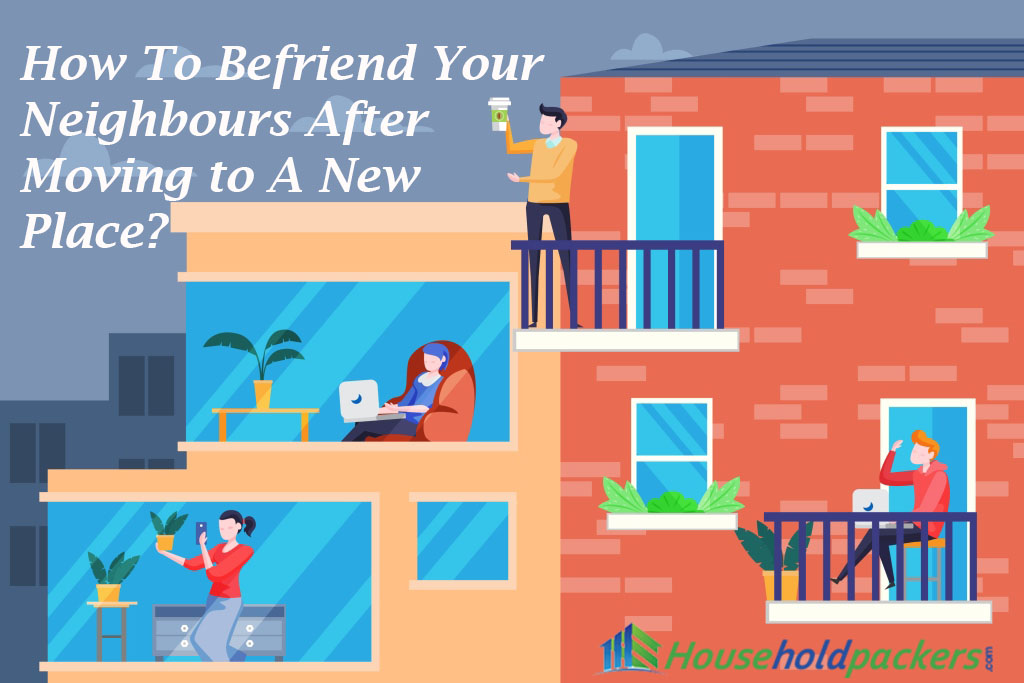 Fill in Your Inquiry
and we will connect you to the Best Packers and Movers
Making friends after moving home to new place can be challenging and intimidating. You can establish new acquaintances if you are approachable and open after moving to a new area. Understanding your close neighbours and searching for locals with whom you may connect is beneficial. If you remain patient and optimistic, you'll quickly have a new group of pals in your neighborhood to spend time with.
Choose the best packers and movers near me to make your moving easier for you.
Set yourself apart (literally)
You can't quite well knock on every door without appearing like it's some solicitor, and not everybody in your neighbourhood will stop by to say hello. Nevertheless, you may run into many of your neighbours after home shifting.
If you see any neighbours, smile and say hello to them

.
From the beginning, make it a point to greet your neighbours with a smile and a friendly "hi." The first step in meeting folks who might become friends is to be nice and pleasant with your neighbours. A friendly smile encourages others to approach you and start a discussion!
Even if you've only recently moved in and aren't in the mood to converse, a simple "hello" and a smile go a long way to establishing yourself as a welcoming new neighbour. When you make a good first impression, individuals will be more inclined to speak with you afterward.
Embrace the small talk
Regardless of how you came to meet your new neighbours, keep the discussion light and positive. You should feel free to talk about the weather or anything else that comes to mind as well as your move (where you'll be from, how the relocation went, how you found out about the neighbourhood, etc., since your neighbour will inquire). You can also talk about household shifting services and other stuff.
Make plans and exchange phone numbers with everyone you click with
If you find someone you believe you would get along with, don't be scared to try to create plans for the future with your neighbours. Exchange phone numbers and ask if they'd like to get coffee or attend a local event.
For instance, ask a neighbour about nearby coffee shops and then ask if they'd like to meet up for coffee and conversation later. Make it known that you're new to the town and are simply trying to meet people. When only some people seem interested in getting to know you, don't worry. Some neighbours may want to keep to themselves, which is perfectly fine.
Find neighbours who share your interests
You might have run into some of your neighbours who share your interests and pastimes at the yard sale. Either way, you should seek and establish relationships with your common-interest neighbours.
Keep an eye out for topics of interest during chats with your neighbours, and feel free to mention some of your own. Your occupation, place of origin, favourite sports teams, age of your children, etc., are all potential conversation starters with your neighbours.
Keep it organic
Try to keep interactions with your neighbours natural whenever and wherever you see them. That means you should refrain from imposing a discussion, lingering too long, or allowing guests to stay too long. Any circumstance that causes you or your neighbours to feel uneasy is unlikely to develop into a friendship in the future.
If you see your neighbours might use it, lend them a helping hand. Random acts of kindness frequently result in deep conversations. You can demonstrate that you are a good neighbour by assisting a neighbour. For instance, shovel snow in front of a neighbour's house when you are shovelling snow in front of your own, or assist an elderly neighbour in carrying groceries to their door.
You should personally send a neighbour's mail when you unintentionally obtain it instead of just dropping it in their mailbox or slipping it under the door.
Host a housewarming celebration (or two)
Okay, so you've met several neighbours, some of whom even have interests in common with your own. It may be time to invite them over for a housewarming celebration. Decide on a Saturday evening and invite every single neighbour you desire. Although you shouldn't feel obligated to invite everyone you've met, you should include your neighbours, so they don't feel left out. If you wish to, offer dinner; extra points if it's cooked on a quality grill, but feel free to.
To meet fascinating locals, use the Internet and applications
Some numerous websites and apps enable locals to connect based on common interests. Use these tools freely to find pals after moving by using them.
Nowadays, there is an app for everything. You may download apps that are expressly designed to assist you in finding neighbourhood exercise partners, joining supper clubs, finding a date if you're single, and just about anything else you could imagine! Visit a website that can help you identify local organizations and people to hang out with who are involved in particular interests.
Join community organizations or classes to meet individuals who share your interests.
Find local organizations that focus on your interest by asking or looking on social media. Enroll in a class to spend time engaging in a hobby you enjoy with others who live nearby.
Find a regional league in your new location, for instance, if you play a sport. If you enjoy working out, consider enrolling in a class at your neighbourhood gym. Find groups on Facebook that you might join related to a pastime you enjoy. For instance, if you enjoy playing board games, you may find a local meetup group on Facebook that you can join.
Conclusion
A new house brings both exciting potential and stressful challenges. Both introverts and social butterflies may find it difficult to meet people and make friends in a new area. Putting oneself in front of a fresh set of people might be intimidating. Fortunately, there are a few tried-and-true suggestions for creating a favourable first impression and setting the stage for a long-term friendship. To make your moving hassle-free, choose professional packers and movers.
Recent Blogs