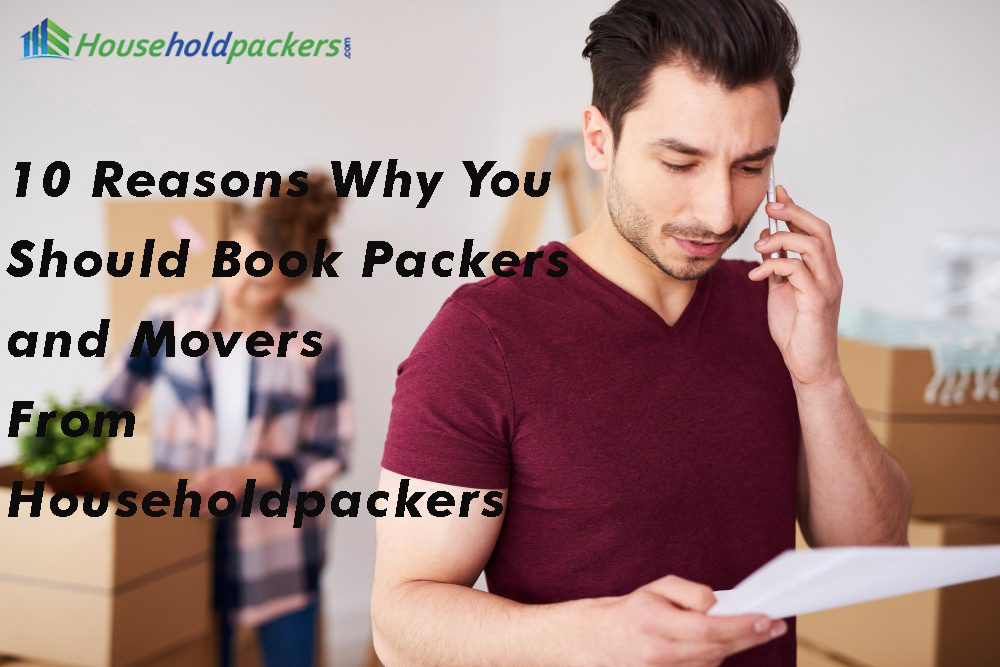 Fill in Your Inquiry
and we will connect you to the Best Packers and Movers
If you're in the midst of planning a move, you may be wondering if you should handle the packing and moving yourself or hire a professional company to do it for you. It may seem tempting to save money by doing things yourself, but there are a lot of things to consider before deciding against professional help. Here we take an honest look at 10 reasons on why to book packers and movers from Householdpackers to simplify things for everyone involved in this big transition.
1. Our Network is Wide and We Offer Free Quotes
Anyone who has ever moved knows that it can be a stressful experience. There's the packing, the loading, the transport, and then the unloading and unpacking. That's why it's important to find a good team of packers and movers who will take care of all the details for you.
We have a wide network of professionals who are experienced in handling all aspects of a move, starting with packing the belongings to transporting them safely. Plus, we offer a free quote so you can get an estimate of the cost of our services before making a commitment.
2. Our Services Save you Time and Stress
If you're planning a move, the last thing you want to do is add more stress to your plate. We take care of the packing and unpacking for you once you arrive at your new home. And best of all, we'll do it all without breaking the bank.
Householdpackers take pride in providing high-quality services at an affordable price, and we're dedicated to making your move as easy and hassle-free as possible. We'll take care of everything for you so that you can focus on what's truly important: settling into your new home.
3. Making your way through Narrow Spaces
Some homes have narrow doorways or stairwells that can make it difficult to move furniture through. Professional movers are experienced in maneuvering furniture through tight spaces, so you don't have to worry about damaging anything.
4. Furniture Assembling and Disassembling is our Specialty
Many pieces of furniture need to be disassembled before they can be moved. We have the Best Packers and Movers in India that can take care of this for you, so you don't have to waste time trying to figure out how to take your couch apart. They can also reassemble it at your new place.
5. We do the Loading and unloading Carefully
Loading all of your belongings into a truck or van can be tricky – especially if you don't have experience doing it. Professional movers will have no problem loading everything up securely and then unloading it at your new place.
6. We will handle the Driving for you
If you're hiring a moving company, the packers and movers will also take care of the driving for you. This means that you can sit back and relax on the way to your new home, without having to worry about traffic or directions for your home relocation in India.
7. Keeping Accidents at bay
Accidents can happen during any move, but they are more likely to happen when you're doing it yourself. Hiring professional movers decreases the chances of something going wrong, as they are experienced in safely moving furniture and appliances.
8. Full Transparency on Pricing
When it comes to booking packers and movers, there are a lot of things to consider. You want to make sure that you're getting the best possible price for the services you need. But you also don't want to end up with hidden fees or unexpected charges. That's why it's important to choose a company that is upfront and transparent about their pricing.
Householdpackers is a leading packers and movers company that offers full transparency on pricing. We provide a breakdown of all our fees so that you know exactly what you're paying for. And we don't believe in hidden fees or surcharges. So when you book with us, you can rest assured that you're getting the best possible value for your money.
9. We Use High Quality Packing Materials for your belongings
If you decide to go with the best household Shifting in India, you should definitely book with us. We use high quality packing materials for your belongings, and assure you that they will be safe during the move. Plus, our experienced team will be able to get the job done quickly and efficiently.
10. Our Goal is to Help you Save Money
We're here to help you save money on your move, by offering packing and moving services that are both affordable and reliable. We understand the challenges that come with moving, and we're dedicated to making the process as smooth and stress-free as possible for our customers. With Household Packers, you can rest assured knowing that your belongings will be safe and sound during the move.
Conclusion
We've all been there before - standing in the middle of our homes, wondering how on earth we're going to pack everything up and get it moved to our new place. Hopefully, these ten reasons on why you should book Packers and Movers from Householdpackers have given you some additional insight. With our years of experience in the industry, we promise a move that is efficient, affordable and most importantly – stress-free!
Recent Blogs