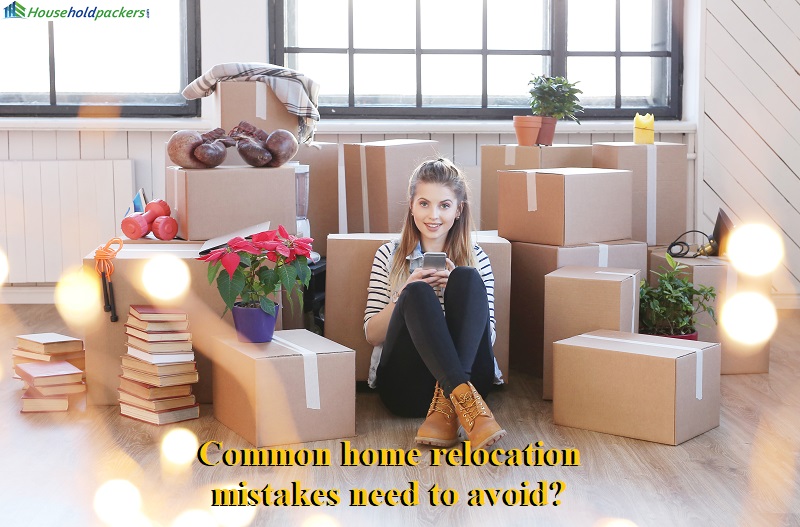 Fill in Your Inquiry
and we will connect you to the Best Packers and Movers
It is exciting to move to a new location but at the same time, it is very stressful. It is necessary to take the right steps for proactive packing and hire the right professionals. This will ensure the safety of your items and evade the possibility of any mishap. For a hassle-free shift to a new place, there are a few home relocation mistakes that should be avoided. There are several dos and don'ts, which can interrupt your relocation process. While people are aware of the majority of the mistakes, they still require growing their knowledge of errors to avoid during home shifting.
Some of the steps that should be avoided during home relocation are-
Leaving work for the last minute
Procrastination is the biggest flaw at the time of relocation. Delaying things and leaving them for the last minute can create major confusion and you will be in a chaotic situation. When you are procrastinating things until the last minute, the outcome will be messy packing and additional expenses for transporting all goods including unwanted ones. So, it is suggested to pack all your items well in advance, make an appropriate list of all the tasks to be taken up, and maintain a deadline for every chore, so that it is completed on time.
Always de-clutter before moving to a new location
Shifting to a new home is like a brand new beginning, and it is an ideal time to get rid of all the clutter and items, you do not require any longer. Go through all your belongings and decide what you need to carry with you, what you can discard or sell, and what you need to throw. For this reason, too it is suggested to begin packing early, which will allow you plenty of time to make decisions carefully. Remove all your damaged goods and give away old items that are in decent condition.
Hire a verified moving company
It will be wise to opt for a reputed home relocation service for all your tasks as they take responsibility for everything from loading to unloading the cartons safely and delivering to your doorstep. Overlooking the need for authentic movers will put all your items at risk as you may inadvertently employ a fraud company without any certification. It is one of the biggest errors that everyone should avoid while shifting to a new place. Hire the best home relocation service in India to relocate securely.
Trying to move on your own
It is certainly alluring to do everything yourself without taking any assistance. However professional movers are strongly recommended at the time of home relocation. Moving all the belongings would be a daunting task and for this experts are required who are trained to pack your belongings safely. They have the knowledge to fit the big items, disassemble items and pack the truck meticulously to keep your products safe during transportation. You have so many other tasks to follow up on the moving day, so leave the packing part for the professionals. It is important to cut down the costs but trained and qualified movers are worth every penny spent.
A survival kit is a must at the time of relocating
It is understood that you will be exhausted after a tiresome move and unpacking for your basic necessities at that point in time will be impossible. To spend the initial days in comfort pack all the important things like change of clothes, medicines, snacks, toiletries, etc., and keep them within reach. All the keys, laptops, chargers, and other electronics should be kept handy. All valuables and important documents, the jewellery should be kept safely to avoid any confusion later on.
Forward your address to the post office
It is mandatory to forward your mailing address and get it changed at the post office. It is important to ensure that you do not neglect these significant documents. It is a simple process and just requires filling out a form online with the USPS. It takes around 3 business days for these changes to come into effect.
Economical packing supplies
It is important that you use the best quality packaging material otherwise the items get damaged during transportation. Different items used in the household should be packed in a way that safe movement of the products is assured. Over-packing of the boxes will only cause damage to the articles inside and make it enormously difficult to move and lift them. For this, you can make use of adequate bubble wrap and tape to wrap the delicate items efficiently. For this professional packers and movers like householdpackers.com do a wonderful job of relocating all your household items safely. They are trained enough to pack all the delicate items with no breakage.
Right-Sized truck should be booked
If you fail to choose the appropriate-sized truck, it will create a lot of hassle. It can be a major roadblock and if you hire a small truck, you will have to send all the products in shifts, which will result in high expenditure. On the flip side, if you get a large truck booked, you will unnecessarily have to shell out money for the vacant space which is a sheer waste of funds. Hire a reputed transport company, who can guide you to the best-sized vehicle for your items.
Conclusion
To sum it up we can say that relocation can take several days or weeks and should be planned well in advance. Look for the best home relocation service in India for optimal safety and competence on moving day. With householdpackers.com, you can rest assured that your things will be delivered on time and with utmost safety and security.
Recent Blogs