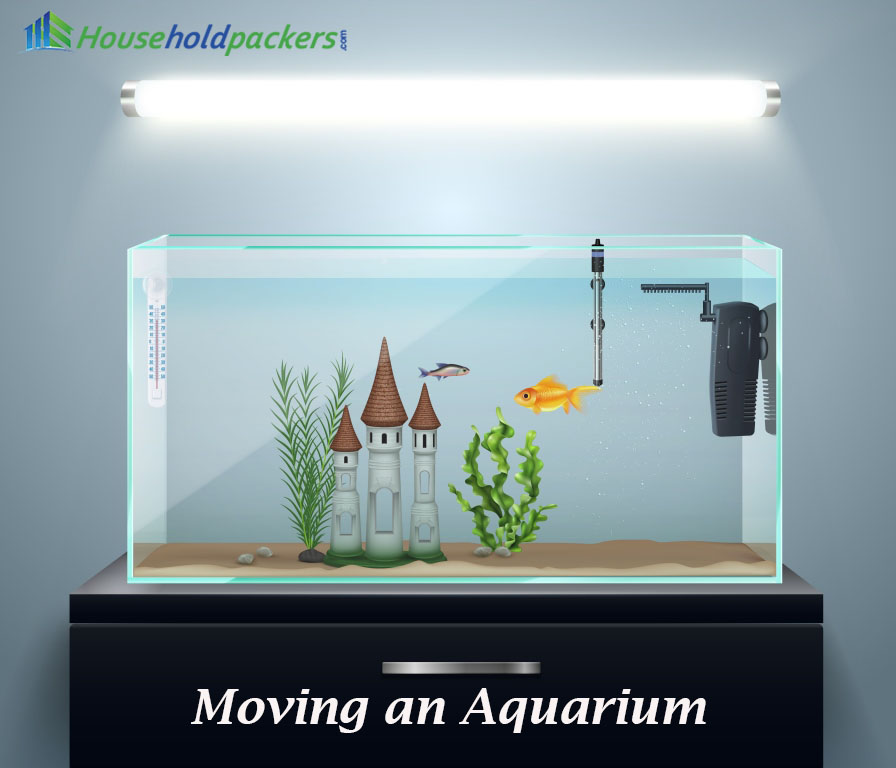 Fill in Your Inquiry
and we will connect you to the Best Packers and Movers
Moving an aquarium is not an easy feat. It is a daunting challenge to move an aquarium or your fish tank. It is a tedious and lengthy process that requires incredible care and patience. From siphoning the water into buckets to removing the fish carefully with the nets to moving a fish tank is a time-consuming process
Reduce the impact of moving to ensure

safe aquarium shifting
The key to

safe aquarium shifting

is to keep fish alive and calm until they are reintroduced to their new haven. High-stress levels in fish can make them more susceptible to illnesses.

Experienced fish keepers are aware of the need to keep the fish healthy and, happy.

You need to reduce their stress levels as low as possible. One of the best ways to keep the stress levels of the water creatures low is to maintain a comfortable environment that will support their well-being.

It is important to get spacious and secure bowls or bags of adequate size to transport fish. Transfer fish to clean tubs with the help of aquarium fish nets.

Get enough clean plastic tubs or buckets with tight-fitting lids for moving the rest of the water from the fish tank. Thus, you can avoid spilling any water as you are transporting live plants and fish.

For siphoning the water from your tank into your fish transportation bowl or additional water buckets use a siphon hose.

Invest in battery powered air pump to ensure that the water remains aerated for the transit duration.
To set up and make the aquarium run smoothly in its new location follow these steps;
Do not overfeed feed your fish
It is important not to feed your fish for at least twenty-four hours before removing them from the tank to minimize the amount of waste they produce

This will help to keep harmful ammonia levels low in their provisional environment without a filter
Switch off and remove the equipment
As you initiate the process of Aquarium Relocation turn off and remove any equipment you use in your tank, such as pumps, heaters, filters, etc.
Syphon excess water into clean containers
Begin by moving the water from the fish tank into the lidded plastic buckets or clean boxes. It's best to siphon around 75% to 80% of the tank water into your storage containers.

By saving as much of your water as possible, you can also reduce the degree of water changes you'll need to do when setting up the fish tank in its new location.
Remove plants from fish aquarium
Remove life plants in the aquarium, by gently lifting them from their place and putting them into water-filled containers or bags.

Make sure to seal the container to avoid water spillages and remove the risk of drying out the plants.
Remove accessories from the fish tank
remove any pieces of décor or accessories from your fish tanks such as artificial plants, rocks, and ornaments.

Store them in water-tight containers.

Spread out heavy items to ensure that no single box becomes too heavy to lift.
Remove tank sand or gravel
One of the safest ways to move a fish tank is always to remove everything in the tank. This includes any sand or gravel. As it is quite heavy, it can damage the seals on the fish tank if not removed.

One of the most important rules to remember when removing your tank substrate is not to rinse or wash it, as this could remove the helpful bacteria living there
Remove fish
First remove decor items such as rock structures, or pirate ships from the fish tank

Use the aquarium fish net to catch and lift fish from the water. Carefully remove them from the tank, before placing them in their temporary container. Thus the fish can no longer hide under them and evade the fishnet.

It is important to store fish in an enclosed container, whether it is a tightly closed bag, or a bowl with a lid as fish may try to jump out.

Keep the covered bowl in a dark place to keep your fish calm

After Safe Aquarium Shifting, resume the regular feeding schedule of the fish instantly
Siphon remaining water
When removing gravel from an aquarium, all you need to do is scoop out as much as you can using whatever you have to hand, whether that be a clean dustpan, jug, or plastic scooper, and place it into more water-tight containers.

One of the most important rules to remember when removing your tank substrate is not to rinse or wash it, as this could remove the helpful bacteria living there

After removing the fishing tank substrate, it is important to siphon out the remaining water. This will create ease in setting up the aquarium in its new location as you will need not to spend extra time doing water changes or treating and preparing new water immediately
Carefully Move the fish tank
Set up the cabinet or desktop before moving your fish tank. Thus you can safely set down your tank without having to hold it for too long,
If you're relocating your fish tank to a new destination, then it is important to properly pack up your tank using a cardboard box with proper packing supplies such as bubble wrap, styrofoam and sturdy tape.
Transport the tank in the boot of a car or moving truck. There should be nothing balanced on the top or near the fish tank
Organize your aquarium
This is a time-consuming process. But set it back up as soon as possible.

Add aquarium substrate and accessories on top and refill it with the water saved in the containers.

Restore the water to the ideal temperature.

Reintroduce your fish to their tank slowly, to control stress levels
Top up the water by using de-chlorinated water
Monitor your tank for fifteen days to ensure the quality of the water is sustained, and that your fish and plants are in good condition.
Your precious underwater ecosystem can survive the trials of moving only if you adhere to the guidelines for a safe and easy move to its new home.
Moving an aquarium needs a conjoined effort of more than one person even if the fish tank is small.
Before you start the process of moving your fish tank follow the aforesaid steps for a safe and hassle-free move. You can also hire reputed Packers and Movers in India for safe and stress-free Aquarium Relocation.
Recent Blogs