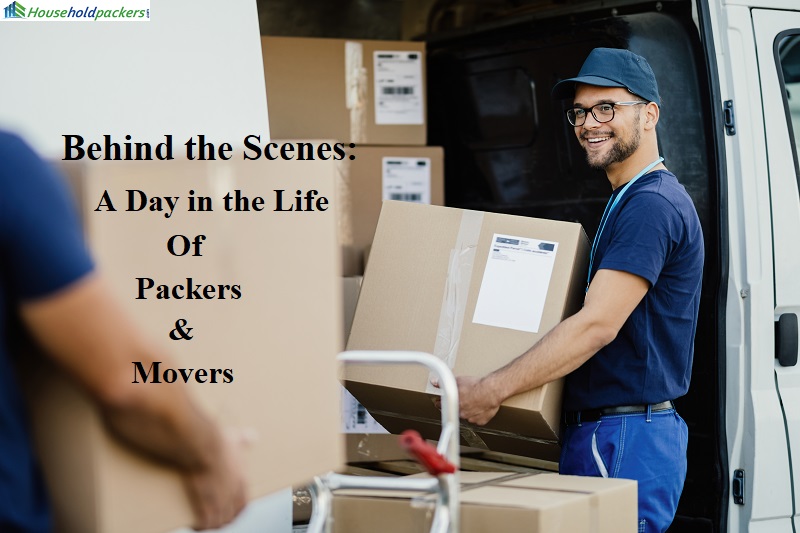 Fill in Your Inquiry
and we will connect you to the Best Packers and Movers
Whether you need to move to a new home or you are shifting office, it is so very important to hire the services of top packers and movers. The professional packers and movers make your task of moving to a new place easy as well as hassle-free. They make the challenging experience of shifting comfortable for everyone. But have you ever wondered what goes on behind the scenes during the process of packing and moving your belongings? Let's take a closer look at a day in the life of packers and movers to gain insight into their hectic and meticulous routine. These are the experts who somehow don shoes of life saviors for a whole lot of us.
The day begins with sending the team to different locations where the moving is supposed to be done. The team is briefed as regards tasks that need to be performed during the day. For every team that is sent to a location, a team leader is assigned. He/ she is the one who designates tasks, discusses the schedule, and ensures that everyone understands what needs to be done in order to facilitate smooth moving for all. It is extremely important that work is streamlined so that there are no delays of any kind.
When it comes to moving and packing timelines are very important and if shifting is not done within a specific timeframe the client will find things hugely cumbersome. For instance, if a client is moving to a new city and needs to start work and any delay is caused, it will cause a lot of problems for him/her. So, when it comes to moving and packing, timelines cannot be ignored at any cost otherwise your company will have bad reviews.
Inventory Check by Moving and Packing Team
Before any packing begins, the team reviews the inventory list provided by the client. This helps them determine the type and quantity of packing materials required. This needs to be done in advance before the team leaves for the site. If needed, the team procures packing materials such as cardboard boxes, bubble wrap, packing tape, furniture blankets, and more. Ensuring they have the right supplies is crucial for a smooth operation. This is the spade work that needs to be done either a day prior or in the morning. The morning planning is very important as this determines how the day will follow. When planning is not done, it can lead to a lot of chaos.
Packing Process by the Team
Packing of Electronics and Fragile Stuff- Packers start with delicate items like electronics and fragile decorations. They carefully disassemble electronics, pack them securely, and use padding for fragile items. It is vital that these things are packed before you pack anything else. This is to ensure that minimum breakage happens. Sometimes when the packers are packing heavy items such as furniture, cupboards, etc electronics can damaged. So, it is better to work with them before doing anything else.
Disassembling of Furniture
Larger furniture items are disassembled to facilitate transportation. This includes removing legs, drawers, and any other detachable components. Once the furniture is disassembled, things move at a faster pace because a huge task is done. The team usually takes a break for a while after this. They can have a snack or enjoy a lunch break.
Labeling of Boxes
After this items are put into boxes and labeling is done meticulously so that there is no problem when boxes are opened. The team clearly mentions the components of each box. This helps streamline the unpacking process at the new location. This also minimizes any chances that products or stuff are lost during transit. Nobody will trust a mover and packer who misplaces the stuff during transit.
Loading the Truck
Packers load the packed items onto the moving truck. They use techniques to maximize space and secure items to prevent shifting during transit. There are specialized machines that are used to put the heavy stuff safely and securely. The driver and a team member set off to the new location while others remained at the old location to finish packing and loading the remaining items onto the truck.
Unloading and setting
Once the stuff reaches the desired location, unloading begins. At the new location, the team unloads the items carefully. They cross-check the inventory list to ensure that everything has arrived safely. The team reassembles furniture and sets up electronics. They position items according to the client's preferences and instructions. If the client has requested unpacking services, the team begins unpacking boxes, organizing items, and placing them in the appropriate rooms.
Inspections and Paper Work
The team leader conducts a final quality check to ensure that everything is in order, and no damage has occurred during the move. The client inspects their belongings and the setup. Any concerns or issues are addressed promptly. The final step involves settling payment, completing paperwork, and obtaining client feedback.
A day in the life of packers and movers is filled with meticulous planning, careful packing, and efficient transportation. It's a physically demanding and detail-oriented job that requires teamwork and coordination. The goal is to ensure a smooth and stress-free moving experience for their clients, making their new house feel like a home from the moment they arrive. For the best moving and packing experience log on to hoseholdpackers.com and choose a mover and packer according to your needs and requirements.
Recent Blogs