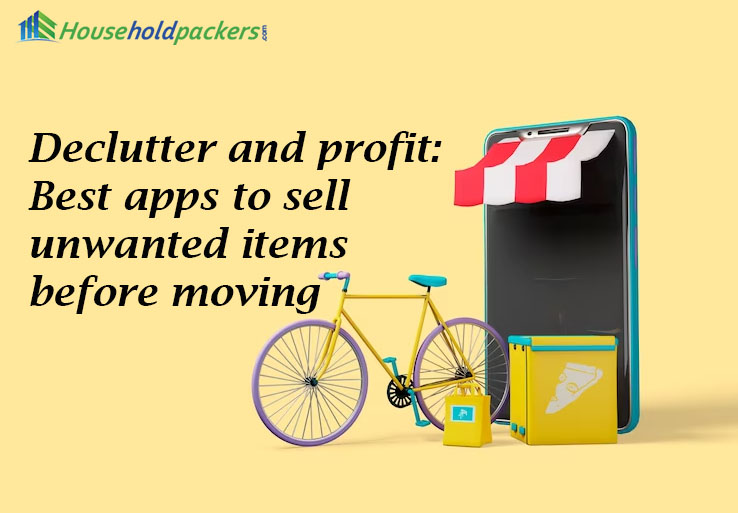 Fill in Your Inquiry
and we will connect you to the Best Packers and Movers
Have you collected stuff you never use and is gathering dust? Household shifting is the best time to declutter your home and convert all unwanted items into extra cash.
The process to sell redundant and surplus stuff can be time-consuming and tedious. Also, you tend to forget items that you stop using. Over the years, the number of such unwanted items multiply in the home. All that extra items in your cabinets shelves, closets, garage, kitchen, etc is potentially money that you can get as you sell them
Declutter before household shifting
DE cluttering while moving home may seem a little overwhelming. However, it is important to focus on having a stress-free relocation experience and not hold on to old things that are no longer in use. A substantial de-cluttering process before moving home saves you time and energy. Also, it can help save money. It is important to start early and begin with the things that you use the least. Be sure to check all items in the house including cabinets' junk drawers, electronics, tablets, clothing, gadgets, etc.
Sell online to declutter
With the help of modern technology a number of apps dedicated to virtual marketplaces, that sell unwanted items have been developed. Thus the process of de-cluttering has become easy and at the same time yields incredible profits. All you need to do is download a best app to sell, click a photo with your smartphone, and list an item.
It is important to take vivid pictures and write a detailed description of your product. Through the app, you can connect and communicate with a potential customer and sell your unwanted items.
It's also helpful to establish a deadline to sell your unwanted things. Be willing to lessen the prices or negotiate with the interested buyer .The entire process just takes seconds. You can receive a prompt valuation for your products. It will only take minimum time and effort to make it happen.
There are many bestselling apps that can help you unload your unwanted items and make moving easier. Whether you want to get rid of jewelry or clothes, or gadgets, you can sell them without a hassle.
Few best apps to sell your unwanted stuff before moving home
OfferUp
This is one of the best apps that stand out as it supports an intuitive interface and expansive user base. You can use it to communicate with potential buyers, and. Later, contact and make the deal in person to avoid malpractice. Local sales on the Offer Up are free but a service fee is charged on long-distance transactions. It endorses that users exchange cash instead of using checks, cards, or payment apps. Now you can make a speedy sale of your unwanted items at a cost-effective price.
Decluttr
Want to dispose of old technology items? Save yourself from the hassle of selling old phones, broken electronics, gaming consoles, smart watches, tablet computers, microwaves, and more. List the item you need to sell at Decluttr and the company will quote you an adequate price. The sellers can offload unwanted products and collect payment from Declutter instantly.
One of the best benefits of this app is consistency and speedy deals. If you get a suitable offer, pack and send your unwanted stuff, with a provided shipping label. You will get the money from Decluttr the day after it arrives. But if something is amiss Decluttr will send it back at no cost to you. There is no need to wait for an individual consumer to buy your goods.
5Miles'
This app has a simple, easy-to-navigate user interface. It uses your phone's location to share your listings with buyers in your specific area. This is one of the best and most safe apps to list big furniture items and is free. It has more than 15 million users, so sellers can expect a wide audience of potential buyers, and uses a triple verification process .5miles offers a meet-up location finder to make sure that both the buyer and seller can agree on safe neutral ground to execute an exchange.
Facebook Marketplace
This app is ideal for Posting items for sale in Marketplace, each listing is public, so it can be seen both on and off of the platform. Just click a clear picture and add a product name. Give an accurate and precise description, and mention the price. This platform is especially useful for sellers looking to make a transaction quickly and get quick profits.
Poshmark
This app is best for used clothing, and closet clean-outs, whether you're selling one item or dozens. To list an item for sale, post at least one vivid photo along with information about sizing and brand. Once the purchase is delivered, Poshmark deposits the seller's earnings into their account within three days.
Apps are being used by individuals and reputed packers and movers to sell unwanted items without running the risk of being in unsafe situations. The best apps to sell unwanted items before moving home vary depending on whether they handle logistics like shipping or meet-ups. They are one of the best ways way to connect sellers with buyers, both in their immediate vicinity or in a different place.
The aforesaid platforms are some of the best options for DE cluttering and disposing of undesirable items. Millions of people spend time on these virtual platforms, so you get the best opportunity to reach the right audience, sell unwanted items and make a profit.
Recent Blogs