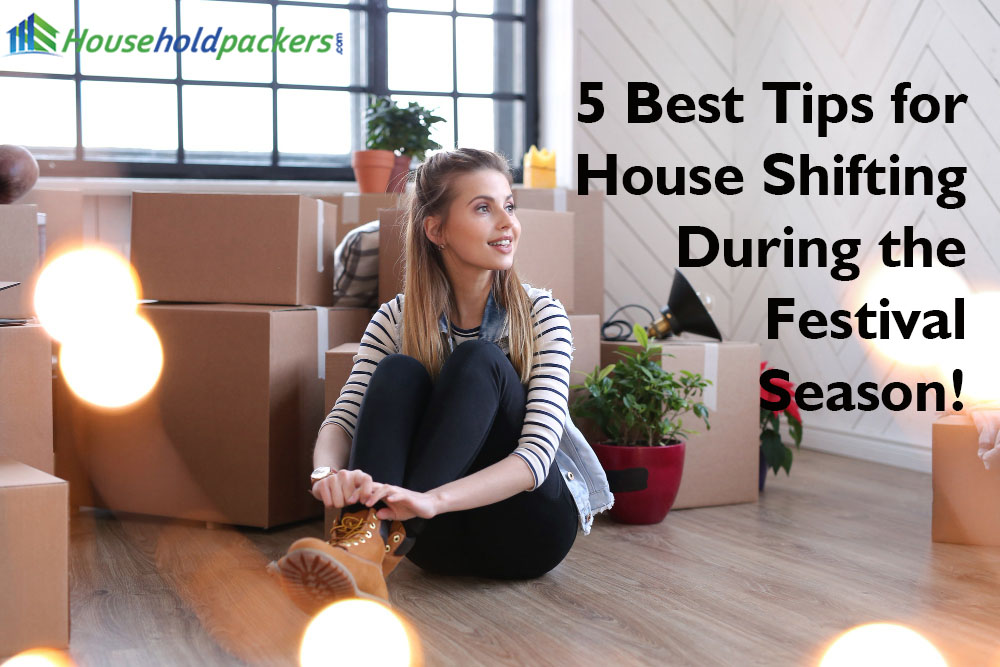 Fill in Your Inquiry
and we will connect you to the Best Packers and Movers
Today, we observe several different festivals. There are always going to be a lot of individuals around, regardless of the holiday. Home Shifting in Festival Season can become hectic. Small items are difficult for us to transport, particularly during temple celebrations. You won't be able to transport items made of extremely delicate materials, such as glass, from our residence to another location if you do it alone.
Best Tips for Home Shifting during the holiday season are provided below:
Pack early
The earlier you begin the season, the better. Start by packing winter clothing, books you haven't read, and other goods you won't be utilizing anytime soon. Decide to declutter and organize everything in each space as needed. Allow yourself at least 3 to 4 weeks before moving day to pack at your leisure or enlist the help of a moving company to hasten the process.
Pack little by little:
Don't rush to pack everything. When relocating, you do not want to make a mess but also lose your priceless possessions. Take your time and prepare more thoroughly to react quickly to unexpected situations. To determine the precise amount of belongings you need to pack, remove items from the storage, closets, and other locations such as the attic. Set aside a location for all the boxes, then arrange them one by one, making sure to include all of your prized possessions.
Get organized
An unplanned action could land you in serious trouble. When moving to a new location, much planning is required, especially if the move must be completed by a certain date.
Moving homes entails a lot of work and great risk. As a result, careful planning is required. You need to decide how you'll accomplish this: whether you'll choose expert packers and movers from one place to other or handle it yourself.
Depending on that, you ought to compile a list of the necessities for packing and moving your belongings. Finding trustworthy companies is necessary if you plan to use a moving company to transfer your property.
Plan out-of-town family gatherings:
You can still have fun even while you're relocating your residence. Spend some time unwinding and having fun with your loved ones. Try to limit the number of visitors you invite or host events outside the home. Additionally, you might invite your family to host the event and spend the holidays with them.
Purge
Individuals clean their entire homes during Diwali, giving them a chance to get rid of all the unnecessary goods they had been holding onto.
By purging, you'll be able to identify the items you must take with you and the ones you may sell or donate. This one is advantageous because it lowers the weight of your package and your relocation expenses.
Clean the Items
Clean the items before your mover begins packing them. Festivals, notably Diwali as well as Navaratri, inevitably involve cleaning. Additionally, by cleaning every object in your possession, you will be assisting yourself in lightening the load of cleaning the items while rearranging things in your new home. Cleaning takes time, which could slow the reorganization and settling into your new home.
For large furniture and boxes, contact movers:
Make a professional mover available in advance because the holiday season is extremely hectic for movers all across the nation. Relocating a house from one place to the other might be difficult, despite your temptation to do it yourself and thus save money. Employing experts in the moving and packing business has added convenience and safety benefits. Many recommendations are available online but look through trustworthy sites rather than a link with reputable and leading Packers and Movers. Moving companies will expedite your relocation and are cost-effective during the peak moving season.
Keep things simple and enjoyable
Moving doesn't always have to be difficult. Consider all the wonderful experiences and family activities you had over the holiday. Make a schedule, so you don't forget the dates, and contact a reputable packer and mover immediately for a smooth move.
Why packers and movers for House Shifting?
Some primary reasons to hire Packers and Movers in India are:
Safe relocation and secure packaging
Your items will be packed by trained personnel. They are skilled at their jobs because they are professionals. They pack premium materials and employ original methods. It guarantees that the items are securely packaged and are manageable to carry during transport. In addition, it guarantees a secure move; they ensure your furniture and other things are not harmed.
Definite deadline
Professional moving and packing services follow strict timeframes. Consequently, you know when to anticipate your possessions at the new location. It also enables you to schedule additional associated tasks by this due date.
Transfer without stress
Moving furniture and other items is the most difficult element of moving a house. Therefore, hiring a moving and packing service provider eliminates the hardest task. As a result, you won't have to stress out over the process but, instead, be able to enjoy it.
Conclusion
Cultivating joy over this holiday season is crucial and spreading it around. Changing your location is a good idea if you feel stuck. You can find new inspiration, hope, and a chance to start over in a new location. Moving homes is frequently a terrific choice when you wish to change your living or lifestyle situation.
Recent Blogs