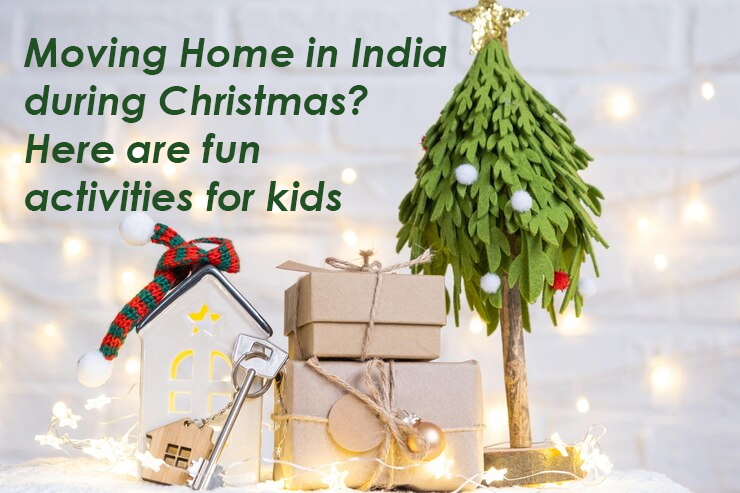 Fill in Your Inquiry
and we will connect you to the Best Packers and Movers
Christmas is around the corner, and if you are planning home shifting in Christmas, it is essential to gear up, especially with kids.
Here are some enjoyable DIY Christmas ideas to keep the holiday spirit alive during home shifting you're moving this Christmas:
Deck of cards
Cards are a timeless and portable option that is perfect for killing time while playing games like Spades, Crazy Eights, War, Go Fish, or even Solitaire when you have just one child.
Dress up the moving boxes
Ask the kids to embellish the moving boxes when you're still racing around packing. Allow kids to run wild with their ideas by giving them certain coloured markers plus stickers.
Write or stencil some large letters on the exterior of the boxes and ask the children to fill them in so that you can still read the labels. Consider using stickers, line drawings, glitter pens, patterns, and more!
Bubbles and playdough
Bubbles are great for almost anything. Young children will enjoy blowing and catching them to fill the time on relocation day. Purchase a few various bubble varieties for hours of entertainment. To make something special, combine bubbles and playdough. Offer them a challenge to create something original to hang on the Christmas tree.
Create a "first-night" box for them
Give the kids the duty of packing a box with the things they'll require to settle into their new home while you're busy packing up the house.
Please encourage them to consider all the small items they want in their new room on the first night so they won't have to search through the boxes! PJs, cuddly animals, toiletries, and nightlights are some essentials.
A significant adjustment might be made when moving into a new place. On the first night, having cherished belongings close by helps ease the transition and provides a sense of peace.
Make an activity kit for moving day
Get the kids a list of enjoyable activities to keep them occupied on the day of the move. It needn't be a huge assortment; just a few well-chosen, lightweight objects that might keep your kids occupied will do.
It might be playdough, crayons, markers, coloring books, activity books geared for the child's grade, sticker books, etc. Please provide them with their list of activities the day before the relocation to ensure that everything is new and exciting to create this even more unique.
Make a treasure hunt
Scavenger hunts are a great way to let the kids' inner sleuths out once you're at your new location.
Please provide them with a list of things to look for in the delivery of the moving boxes. They should have little trouble locating the contents if your crates have already been labelled (or nicely decorated with stickers).
Ask the children to locate their favourite bedtime tale, a family portrait, or pyjamas. Give the winner a prize, such as a fresh set of bedding, pyjamas, or some new furniture for their room, when you want to keep things exciting.
Creating holiday décor
Make Paper Snowflakes:

All it takes to create stylish holiday decor is a piece of white printer paper, a bit of folding, and snipping. The best part is that this easy craft is doable by any child old enough to manage a pair of scissors.

Make a Popcorn Garland:

All you require to make the ideal popcorn garland is a new batch of popcorn, a certain craft string, a pair of scissors, and a sewing needle. Add extra cranberries for an added holiday flavour.
Movies or video games
Even if you typically restrict your children's screen time and try to avoid putting your young children in front of the television, moving day is the ideal occasion to make an exception. Your kids can utilize a laptop, a Nintendo Switch, a tablet, or other portable gadgets instead of your desk computer, TV, plus video gaming consoles, which are probably already packed for the move. Your kids will spend hours having fun viewing a new movie or playing a fun activity.
Christmas songs with emojis
Within that festive game, kids race to correctly identify various Christmas carols using emoji cues to win rewards.
Camping at home
Set up a tiny tent for your kids within their safe room on relocation day, as there would be plenty of vacant space once your home belongings have been packed for the move.
Give them toys like flashlights and maps of your new location so they can find points of interest and plot their course for snacks, exploration, drinks like you would pack on a real camping trip, etc. Give your kid campers sleeping bags so they can rest in their tent, or think of a creative game.
Build a scrapbook with your children
Creating a scrapbook about the move with your kids might be a great activity to keep them occupied. It is particularly true if you are moving them a considerable distance. Gather images representing special times your family has shared to begin.
A scrapbook, sheets, stickers, and vibrant markers should be provided. Let your kids insert the images in the book and write down the family's memories next to the pictures. Additionally, you can utilize the markers to embellish the remaining pages.
Conclusion
Moving Home in India can be quite challenging. It may be challenging if your kids are with you when you move. It's a huge job involving a never-ending list of tasks like packing up every item you own, organizing boxes, booking removalists, and extras like bond cleaning. Add children to the mix while juggling your work. Home Shifting Services in India will make your relocation easier and hassle-free.
Recent Blogs