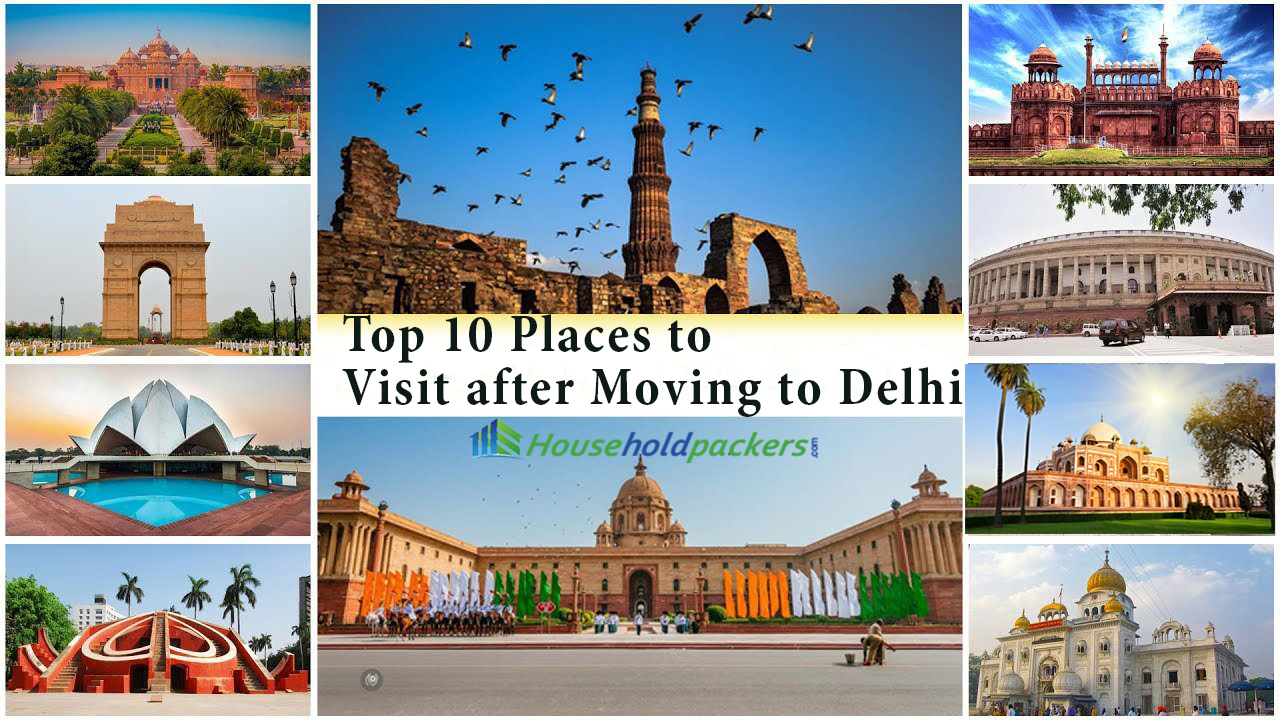 If you are planning to move to Delhi, the National capital of India. We can understand your excitement. Delhi is full of life and many exciting places found in Delhi from historic to traditional to modern. This city is a perfect combination of modern and traditional. This city is a cosmopolitan city where people migrate and earn great income. This is a unique city where people come across the country to live and work.
Every year this city offers tons of job opportunities to job seekers and many people found good residential areas to live in Delhi has an excellent infrastructure and some of the best schools and hospitals of the country are also in there.
If you are living in Delhi then you will get a wonderful opportunity to explore some of the best and architecturally beautiful monuments of the country. There are so many interesting and famous tourist places in Delhi that you can explore after moving to this city. Here are some beautiful places to visit in Delhi.
India Gate
Feature: A War Memorial Monument
Address: Rajpath, India Gate, New Delhi, Delhi 110001
Height: 42 metres
Established: 10 February 1921
Unveiled: 12 February 1931
Designed By: Edwin Lutyens
Interesting things found in India Gate:
73 feet Canopy in the vicinity of the gate
Amar Jawan Jyoti, or the flame of the immortal soldier
National War Memorial
Children's Park
Nearby attractions:
Rashtrapati Bhavan
Sansad Bhavan (Parliament House)
Major Dhyan Chand National Stadium
North and South Block secretariat buildings
National Gallery of Modern Art
2. Qutub Minar
Meaning: Victory Tower
Feature: World Heritage Site
Address: Seth Sarai, Mehrauli, New Delhi, Delhi 110030
Height: 72.5 metres (238 ft.)
Construction: Started in 1199 by Qutb-ud-din Aibak / completed in 1220 by his son-in-law Iltutmish
Architectural Style: Indo-Islamic architecture
The Qutub Minar is the most popular tourist place of Delhi. Every year thousands of tourists visit Delhi. It is a historical monument which is surrounded by monuments & buildings from the Delhi Sultanate. It is the tallest brick minaret in the world. The Qutub Minar is decorated with inscriptions and geometric patterns. You can see beautiful calligraphy and motifs on the upper levels of the minaret.
Interesting things found in Qutub Minar:
Alai Darwaza
Smith's Cupola
Quwwat-ul-Islam Mosque
Iron Pillar – one of the world's foremost metallurgical curiosities
Tomb of the Delhi Sultanate Ruler, Iltutmish – a second Sultan of Delhi
Tomb of Imam Zamin – a 16th-century tomb
Ala-ud-din Khilji's Tomb and Madrasa
Tomb of Adham Khan
Alai Minar of Khalji
3. Humayun's Tomb
Feature: World Heritage Site
Address: Mathura Road Opposite, Hazrat Nizamuddin Aulia Dargah, Nizamuddin, New Delhi, Delhi 110013
Construction started: 1565
Architectural style: Mughal architecture
Architect: Mirak Mirza Ghiyath, Sayyed Muhammad
Humayun's tomb is a historical monument and world heritage site. This tomb belongs to the Mughal Emperor Humayun. The construction of this beautiful monument was started by Humayun's first wife Haji Begum. This tomb was the first garden-tomb on the Indian subcontinent and it is the house of the Empress Bega Begum, Hamida Begum, and also Dara Shikoh. Also you will find graves of Emperor Jahandar Shah, Farrukhsiyar, Rafi Ul-Darjat, Rafi Ud-Daulat, Muhammad Kam Bakhsh, and Alamgir II. While exploring the tomb you will be amazed to see the beauty of excellent Mughal architecture.
Interesting things found in Humayun's Tomb:
Char Bagh, a Persian-style garden with the quadrilateral layout
Tomb and Mosque of Isa Khan
Bu Halima's Tomb and Garden
Afsarwala Tomb and Mosque
Arab Serai, the Resthouse for the Horses
Nila Gumbad, it stands outside the boundary of the complex
Chillah Nizamuddin Aulia
Barber's Tomb (Nai-ka-Gumbad), located within the Char Bagh
4. Swaminarayan Akshardham
Popular Name: Akshardham Temple, Delhi Akshardham
Feature: Exhibition of millennia of traditional and modern Hindu culture, spirituality, and architecture
Guinness World Record: World's Largest Comprehensive Hindu Temple
Address: Noida Mor, Pandav Nagar, New Delhi, Delhi 110092
Constructed By: BAPS
Officially Opened: 6 November 2005
Architect: Vikram Lall
The Akshardham Temple is one of the excellent examples of architectural excellence which blends the historical and modern architectural styles. The main temple of the Akshardham is very beautiful because it is built with Rajasthani pink sandstone and Italian Carrara marble. No other object is used in this temple and also this temple does not have any support of steel and concrete. Many magnificent things attract people's attention apart from the main temple. When you visit the temple then you will never feel bored and tired of gazing at the excellent beauty of the temple.
Interesting things found in Akshardham Temple:
Akshardham Mandir
Musical Fountain, Yagnapurush Kund, is India's largest step well
Garden of India, the Bharat Upavan
Sahajanand Darshan
Nilkanth Darshan
Sanskruti Vihar
5. Lotus Temple
Feature: A Baha'i House of Worship
Address: Lotus Temple Rd, Bahapur, Shambhu Dayal Bagh, Kalkaji, New Delhi, Delhi 110019
Height: 34 metres
Diameter: 70 metres (230 ft.)
Completed: 13 November 1986
Opened: 24 December 1986
Architectural Style: Expressionist architecture
Architect: Fariborz Sahba
Structural Engineer: Flint & Neill
Seating Capacity: 2500
CNN report (2001): The most visited building in the world
Guinness World Records, 2001: The most visited religious building in the world
The Lotus Temple is a beautiful architectural structure and it is a house of worship. This temple looks like a flower shape. This temple is composed of 27 free-standing marble-clad "petals" arranged in clusters of three to form nine sides. There are nine doors that open onto a central hall of the house of worship. The height of the hall is slightly over 34.27 metres. Sitting inside the hall will give you the ultimate peace of mind. Apart from the main house, you will also see a beautiful lush green garden and water pools. Due to its beautiful and stunning architecture, the Lotus Temple has won many architectural awards. Plus, it has been featured in several renowned newspaper and magazine articles.
6. Red Fort
Also Known As: Lal Qila
Feature: UNESCO World Heritage Site
Address: Netaji Subhash Marg, Lal Qila, Chandni Chowk, New Delhi, Delhi 110006
Constructed By: Shah Jahan
Construction Commissioned: 12 May 1638
Construction: Between May 1639 and April 1648
Height: 18–33 m (59–108 ft.)
Architectural Style(s): Mughal, Indo-Islamic
Architect: Ustad Ahmad Lahouri
Many Delhi's interesting places and t attractions are found in Delhi. But it is incomplete if you don't visit the Red Fort . The Red Fort, also known as Lal Qila, is a historic fort, the largest monument, and one of the prime tourist attractions of Delhi. It attracts thousands of visitors every year from all across the world. It was constructed by Mughal Emperor Shah Jahan when he decided to move his capital from Agra to Delhi. Built in red sandstone, and you will find many Mughal and Indo-Islamic architectural styles. Every year on India's Independence Day (15th August), the prime minister of India hoists the national flag at the Lahori Gate, the main gate of the fort. Then he delivers a nationally broadcast speech from its ramparts.
Interesting things found in Red Fort:
Lahori Gate & Delhi Gate
Chhatta Chowk, adjacent to the Lahori Gate
Naubat Khana – the Waiting Hall
Diwan-i-Aam – the Public Audience Hall
Diwan-i-Khas – the Official Hall or the Hall of Private Audience, built for the official affairs and requests of the novelty and royal family
Nahr-i-Bihisht – the imperial apartments
Mumtaz Mahal – built for Arjumand Banu Begum (Mumtaz Mahal) chief consort of the Mughal emperor Shah Jahan (Today, the Mumtaz Mahal houses the Red Fort Archaeological Museum
Rang Mahal – a resort for royal women
Khas Mahal – the emperor's apartment
Moti Masjid (the Pearl Mosque), a private mosque build for Aurangzeb
Hira Mahal (Diamond Palace), a pavilion on the southern edge of the fort
Hammam – the imperial baths, consisting of three domed rooms with white marble patterned floors
Princes' quarter
Hayat Bakhsh Bagh
A sound and light show describing Mughal history in the evenings
You Might Also Like :