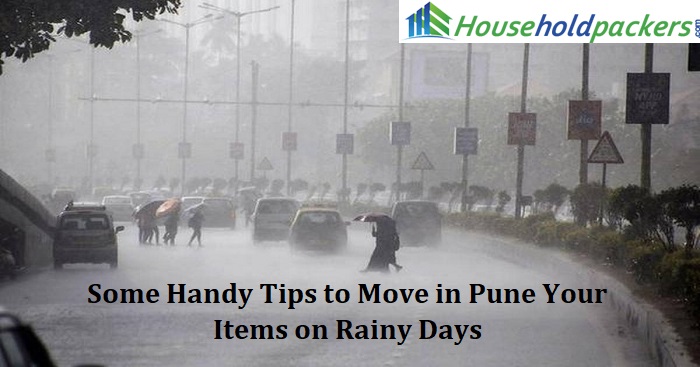 Household shifting in Pune is a challenging task, and doing so on rainy days is even more difficult. But in India, where monsoon is a season that takes up much of the year, rainy days are normal and you shouldn't be surprised to find it raining on the day of your moving. But since things can get difficult, we provide you with some handy tips to move your items on rainy days in Pune.
1. First of all, you have to decide whether you want to hire professional packers and movers in Pune or do it yourself. While doing it yourself may be cheaper, a professional shifting company can make moving on rainy days easier. These companies typically have the right tools and equipment to handle relocation on rainy days. If you have a large number of furniture and electrical appliances that must be protected from the rain, it is a smart move to hire a company that has experience in packing and moving during monsoons.
2. Insurance- Before household shifting in Pune, insure your valuable items. Heavy rain or flooding in Pune may lead to unexpected situations. If there are any damages or mishaps in the transit, the insurance would cover the losses.
3. Packing- Pack your items properly and in waterproof packaging so that the things inside the boxes do not get wet while loading or unloading. Choose good quality bubble wrap, plastic bags, zip lock bags, and the like, to protect your household items. Make sure they don't tear up while handling and loading/unloading. For wooden furniture, cover them with moving pads and then plastic wrap. This keeps the moving pads dry. You can also use blankets and sheets to protect furniture from water and moisture. If you have hired packers and movers in Pune, they will take care of the waterproof packaging.
4. The right carrier- Whether you are relocating yourself or have hired a moving company in Pune, you must opt for the right carrier. Ask for a closed truck that is free from leakages and can shift household items without getting them wet or damaged in case of a heavy downpour or even flooding. Moreover, the right carrier would be equipped with the ability to track your goods in transit. Here, hiring a packers and movers can help you more than self-relocation, because professional moving companies offer the logistics of online tracking of the consignment. In monsoon, damaged roads and traffic jams are common. These cause delay in the delivery of your household goods. In such a scenario, you should be able to stay updated as to the current location of your shipment.
5. Loading and Unloading- While loading/unloading, make sure that the moving truck is as close to your house as possible. If the job can be carried out under a roof, it can be done easily even if it is raining. When the packers and movers in Pune are working to load or unload boxes, it is useful to have the floor covered with mats, towels, or blankets so that the movers don't face the risk of slipping on the floorings. At the same time, your floors get less muddy, wet, and dirty. Make sure there are extra towels handy so that the movers can dry themselves after the task is done.
6. Plan well in advance. Since the weather is unpredictable, you never know what will dawn on moving day. If the weather is too bad, a moving company in Pune might postpone the relocation. If it is flooding, and the carrier trucks you have hired may find the roads impassable, and so on. Make sure you are prepared for an emergency. Advance planning gives you time to arrange the relocation efficiently. Avoid a hectic schedule, and always have a backup plan.
Rains can make household shifting in Pune pretty difficult, but with some effective tips like the above, and a bit of luck, you can work around those difficulties, and your relocation can be hassle-free.