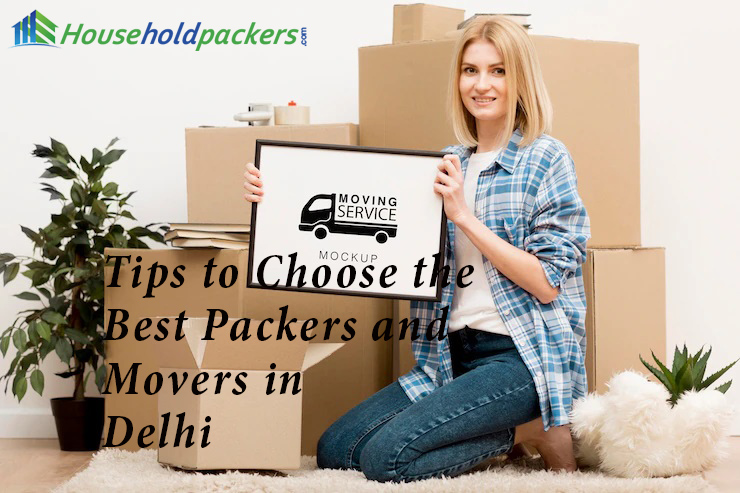 Relocation of the house is very stressful and a nightmare experience for someone. Shifting a house is not an easy task and process. It is always difficult to pack things and move from the old house to the new house. Relocation always requires planning, skills, and some research.
If you're relocating within Delhi or moving from Delhi to another, then the stress of the relocation will be the same on your face. The first thing which comes to your mind is who will you trust when you are concerned about hard-earned belongings? How do you look for the most trustworthy and the online best packers and movers in Delhi? How much will they charge? If you don't have the answer to these questions, don't worry, we're here to help you.
Householdpackers.com will help you in finding the best packers and movers in Delhi, according to your requirements and needs. Companies' main objective is to give you the moving/shifting process as easy, quick, affordable, and painless. Here are some tips which will help you choose the best packers and movers in Delhi.
You never go to those service providers whose charges are lower because you don't know about the companies estimating policies and methods of charges and rates. You don't know anything, why they are charging more and why they charge low. Sometimes companies use less manpower and may be due to this they charge less. With the fewer number of people, your packing and loading time will be doubled and a lot of time will be wasted. The next reason for less charge is they use lower quality products for packaging the items, then your items will get damaged in the transit. Some packers and movers in Delhi use tricks while estimating the cost. Some companies will give you excuses when the payment has to be done like they don't know how many items you have, they don't know the right distance or it is too far, they don't know the size of vehicle you needed for your stuff, and so on.
With the professional packers and movers in Delhi, your stuff will be in safe hands. Sometimes they charge high compared with the other movers & packers in Delhi but they will give you some standard of services and your products will be saved. They also give you insurance covers also, so that you will not face any financial crisis. They always use the best quality of products so that the things will not get damaged and also use a sufficient amount of manpower because timely things will be shifted.
Go With Experience
Always choose the experienced one. The experienced people are harder to find and the inexperienced team is easy to get.. The inexperienced team needs supervision and direction for how to do work. Relocation requires a lot of things that only experienced people can understand. Inexperienced people waste their time in monitoring the things, how they will package and how loading will be done etc. with experienced people this thing does not happen. They know how packaging is done and how things will load in the truck.
With an experienced packer and mover team near me, you will not be going to face any such problems. They use a sufficient number of staff and proper training will be given to them and they know exactly how to pack each item in your home. Packers and movers in Delhi who are having the experience know what materials are needed for the job and they know the importance of time and timely they pack and unpack the items. And the best part of the experience is they know how to behave with the client or in the job.
Complaint Resolution
Always go with the company that provides customer care services. Nowadays some packers and movers in Delhi do not listen when the payment is done. They don't even care for customer satisfaction. When not even taking any type of responsibility when things go wrong. When you unpack your furniture and appliances and you see something is broken, and you don't know what to do? After the payment companies do not even pick the call of the customer. Then you have to bear all the losses alone.
Well, this tithing will not happen with the well-established movers & packers in Delhi. They provide such services and all dedicated employees handle this department. They always call customers when the payment has been done and the duration of the call will be after 10 days of the payment, to ensure that everything's customer is satisfied or not and also they take the feedback from the customer about their services.
Quality Matters:
The house shifting in Delhi does not care about whether you are shifting within the city or outside the state. The only concern of the movers & packers Delhi is to give the best services. If you go with an inexperienced team then you have to face a bad quality of work. Their packaging will not be good and the material they use will be of bad quality.
If you go with an experienced team then for them distance does not matter and the only thing matters is the quality of work. With them, your items will be protected and they use the highest quality of packing materials.
Importance of Time
Nowadays no one is having time to waste for the unprofessional work or process of packers and movers. The movers and packers which are having no experience give you a slower process than those who have experience. They always waste their time searching and monitoring. They always work very slow and inefficiently. But with experienced packers and movers in Delhi, you will not face this problem. They are fully equipped and understand the process of the job correctly and they are aware of the types of materials to be used and how much people will be required to do packaging and loading of the items.
Hidden Costs
If you have very few items to move and you know your shifting is not so far then it will always be a good option to hire a tempo and do the job yourself. But you still need a few people who pack the things and load the things into the tempo and you have to pay them. This option sounds a little messy and hectic. You must be worried about how to get the people and where to get the tempo and you need to keep an eye on the people. Instead of doing everything on your own, you single go to the professionals and hire them for the relocation, they will do all things for you at a minimal cost and you will get
You Might Also Like: