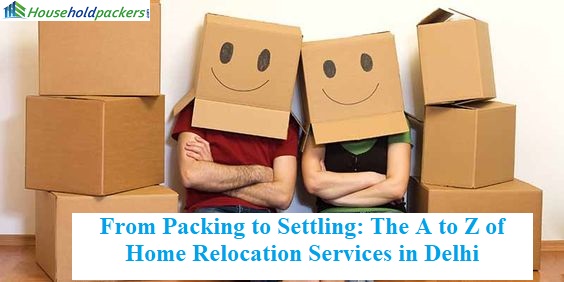 Relocating to a new home can be both an exciting and overwhelming experience. The idea of starting fresh in a new environment is thrilling, but the process of moving itself often comes with a myriad of challenges. Fortunately, in today's fast-paced world, home relocation services have emerged as a reliable and efficient solution to ease the burden of moving. Among the bustling metropolitan cities of India, Delhi stands as a prominent hub for home relocation services, offering a comprehensive range of assistance from packing to settling. In this blog, we will take a detailed journey through the A to Z of home relocation services in Delhi, shedding light on the benefits, process, and considerations involved.
Initial Consultation and Assessment: The first step in any successful home relocation is an in-depth consultation and assessment. Reputed relocation services in Delhi, like Householdpackers, provide a consultation session where they understand your specific needs, the size of your move, and any delicate items that require special attention.
Customized Moving Plan: Based on the assessment, a tailored moving plan is formulated. This plan outlines the entire relocation process, including packing, transportation, and unpacking, ensuring a seamless transition from your old home to the new one.
Professional Packing: One of the most time-consuming and crucial aspects of moving is packing. Home relocation services employ trained professionals who are well-versed in proper packing techniques to ensure the safety of your belongings during transit. They use high-quality packing materials to safeguard fragile items and prevent damage.
Special Handling of Valuables: Certain items hold sentimental or monetary value that requires extra care. Home relocation services in Delhi offer specialized packing and handling for valuables such as artwork, antiques, electronics, and fragile decor items.
Safe and Secure Transportation: Delhi's traffic and congestion can be overwhelming for someone unfamiliar with the city. Home relocation services provide secure transportation options, utilizing well-maintained vehicles and experienced drivers to ensure your belongings reach their destination safely and on time.
Tracking and Communication: Reliable relocation services keep you informed about the status of your move. Advanced tracking systems enable you to monitor the movement of your belongings, providing you with peace of mind throughout the journey.
Unpacking and Arrangement: Upon reaching your new home, the service extends beyond transportation. Professionals assist in unpacking and arranging your belongings, helping you settle into your new space quickly and comfortably.
Temporary Storage Solutions: In some cases, there might be a gap between vacating your old home and moving into the new one. Home relocation services often provide temporary storage solutions to keep your belongings safe until you're ready to receive them.
Insurance Coverage: Accidents can happen during the moving process, and it's crucial to have your belongings insured. Reputed relocation services offer insurance options that cover any potential damage to your possessions during transit.
Local Expertise: Navigating a city like Delhi requires local knowledge. Home relocation services are well-acquainted with the city's geography and regulations, ensuring a smooth and hassle-free moving experience.
Time and Cost Efficiency: Hiring professional home relocation services might seem like an additional expense, but it often proves to be a cost-effective choice. The time and effort saved, along with the reduced risk of damage, make these services a valuable investment.
Stress Reduction: Moving is inherently stressful, but with experts handling the logistics, you can alleviate a significant portion of that stress. From packing to settling, home relocation services allow you to focus on the excitement of your new beginning.
Conclusion
Home relocation services have revolutionized the way we approach moving, transforming a once daunting task into a well-organized and efficient process. In Delhi, a city known for its hustle and bustle, these services provide a lifeline for individuals and families embarking on a new journey. From the initial consultation to the final arrangement of your belongings, the A to Z of home relocation services in Delhi encompasses every step necessary for a successful and stress-free move. So, the next time you're contemplating a move, consider enlisting the expertise of professionals like Householdpackers to ensure a smooth transition to your new abode.