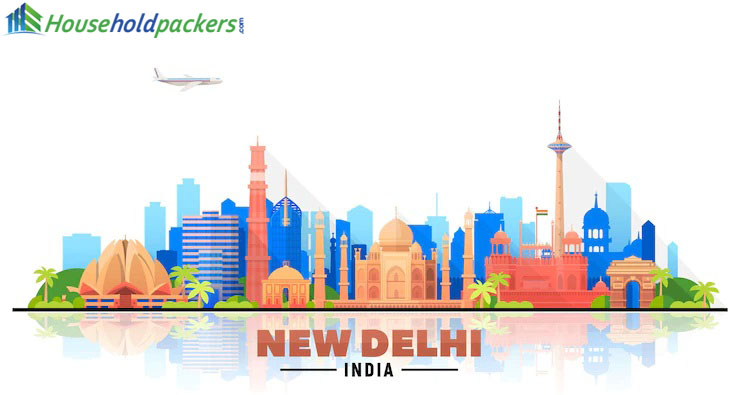 Delhi, the capital of India, is among the most affordable cities in the country. Because of its excellent infrastructure, folks from all over the country flock here. Consider the Cost of Living in Delhi. What does it charge to live in Delhi, India's national capital and the epicenter of much eco-social-political activity? Much is determined by your way of life, where you reside, the size of your family, your expenditures, and so on. Even so, getting a realistic picture of the price of living in Delhi and the expenditures you will face is essential.
Is Delhi safe to live?
With good housing ratings, start-ups, and venture capital ratings, it's an excellent location to live. Numerous people consider South Delhi one of the city's safest neighborhoods.
Living alone or with a family has no bearing on your level of safety because an accident can occur anywhere at any moment. Delhi's crime rate is far higher than that of other cities. Therefore you can make an informed assessment.
You should proceed with caution:
Prevent isolated and secluded areas at all times of day and night.
Avoid making eye contact with strangers.
Wear no valuables.
Stay out with something inexpensive.
If you must attend late-night parties or events, keep close to friends and ensure they accompany you wherever you are.
Things to know before moving to Delhi
Your line of work
The reason for moving to Delhi
The number of family members you must provide for
Employment situation
Lifestyle options
Job description and prospects
Every day commutes
Domestic services that you require
Distance between your preferred location as well as your workplace
Expenses for food
Overhead costs
Before relocating to Delhi and settling on a location, these choices should be considered.
Cost of Living in Delhi
Here's a quick overview of the average cost of Living in Delhi in 2023
Accommodation- Rs 10,000 onwards
Hired transport-Rs 25 per km
Local transport-Rs 2,500
Electricity bill-Rs 1,500 onwards per person
Groceries-Rs 4,000 per person
Internet service-Rs 700 onwards
Lifestyle and entertainment-Rs 1,500 per person
Given the above factors, you may spend Rs 15,000-20,000 per month. Consider the cost of living for families, working couples, and students.
Cost of living in Delhi for bachelors
A student's monthly living expenses in Delhi may range between Rs 22,000 and Rs 24,000. Living expenses in Delhi for students and bachelors is relatively low due to the abundance of PG options. They charge approximately Rs. 6,500 per month.
Below is the overview of the average costs:
Rented house-Rs 10,500
Local transport-Rs 2,500
Hired transport-Rs 4,000
Owned transport-Rs 4,000
Groceries-Rs 8,000
Overhead expenses-Rs 3,000
Lifestyle and entertainment-Rs 3,000
Cost of living in Delhi for a family
Families with children will require a two-bedroom apartment in Delhi that can be leased for 20,000 to 25,000 per month in more affordable areas. A two-bedroom apartment in a posh neighbourhood will cost you between 40,000 and 45,000 rupees per month. Budget an additional $10,000 for groceries as well as utilities.
Below is an overview of the average costs
Rented house-Rs 20,000
Local transport- 2,500 per person
Lifestyle and entertainment-Rs 4,000
Hired transport-Rs 4,000 per person
Groceries-Rs 15,000
Bills-Rs 6,500 onwards
Owned transport-Rs 10,000
Overhead expenses-Rs 6,000
Childcare-Rs 10,000 onwards
Cost of living in Delhi for working couples
A couple residing in Delhi can expect to pay between Rs 25,000 and Rs 40,000 per month. When you choose affordable housing, you can live in Delhi for an overall monthly cost of 20,000 to 25,000. The total cost could be Rs. 35,000 or higher in a more expensive place.
Below is an overview of average costs:
Rented house- Rs 17,500 onwards
Owned transport- Rs 3,000 onwards
Hired transport – Rs 4,000 per person
Groceries- Rs 6,000 onwards
Local transport- Rs 2,500 per person
Lifestyle and entertainment- Rs 1,500 onwards
Bills- Rs 2,500 onwards
Overhead expenses- Rs 1,500 onwards
Factors influencing the cost of living in Delhi
The price of living in both New Delhi and Old Delhi is determined by factors such as utilities, rent, and residential location, amongst many others.
1. Transport
The Metro railway system throughout Delhi is the city's lifeline, connecting every corner of the capital. As a result, you can travel wherever in AC metros for less than Rs 60. You can purchase a smart card for the daily commute because it provides discounts and is a less expensive option. You could set aside Rs 1,500 per month for metro travel. Cab services and Delhi Transport Corporation (DTC) buses are also available in the city, ensuring convenient transportation.
2. Accommodation
Whenever it comes to lodging, Delhi has a wide range of options. You can choose a location based on your budget as well as lifestyle. If you are a student with few needs, residing as a paying guest (PG) with roommates would be the most cost-effective option. A room can be found for as little as Rs. 6,500, making the living expenses in Delhi affordable for students.
3. Food
If you like street food, Delhi is the place to be. However, because you cannot live solely on that, think about hiring a maid-cum-cook to start preparing your meals at home. It will charge you around 5,000 to 7,000 per month, which is a better option. You could also order food from restaurants daily, costing you at least Rs. 9,000 monthly.
4. Utilities
The cost of electricity in Delhi is the lowest in India. The initial 200 units of electricity are accessible, and the following 400 units will price at Rs. 1,075 per month. However, remember that you can't forgo using the air conditioner during the summer, as that will increase the number of units consumed. The Internet costs roughly Rs. 1,000 per month, comparable to other cities.
5. Groceries
Groceries are widely available in stores and may also be ordered online. Regular groceries should be at most Rs. 4,000 per month.
6. Leisure
The Red Fort, India Gate, Jantar Mantar, and Qutab Minar are among the numerous historical monuments throughout Delhi. Aside from the city's attractions, you can conveniently rent a car and go on weekend getaways to Jaipur, Agra, Jim Corbett National Park, Kasauli, and Rishikesh. The cost is primarily determined by the location as well as the food.
7. Sports
There are numerous adventure sports to choose from in Delhi. Among them are paragliding, rock climbing, paintball, go-karting, and bungee jumping. These can range between Rs. 500 and Rs. 1,500 for each person.
8. Entertainment
Remember to factor in entertainment costs when calculating the living costs in Delhi for singles, couples, or families. A movie in a theatre would cost you approximately Rs. 300 to Rs. 400 for each person, and if you plan to eat out eventually at a mid-range restaurant, you will have to spend an additional Rs. 1,500 for 2 persons.
9. Childcare and education
Childcare costs vary according to your children's ages. You should budget between Rs. 3,000 and Rs. 5,000 per month for kindergartens and primary schools. In Delhi, international schools for higher education cost between 1.5 lakhs and 2 lakhs per year.
10. Shopping
Consider purchasing at Connaught Place or Saket when you want to buy branded items. However, suppose you would like to shop for affordable yet fashionable clothes, accessories, and other items. You can go to Chandni Chowk, Sarojini Nagar market, and Lajpat Nagar markets. Shopping in these areas should be at most Rs. 2,000 per month.
Conclusion
Regarding healthcare, infrastructure, and other facilities, India's capital is among the best. You can live comfortably in Delhi if you organize your budget carefully.