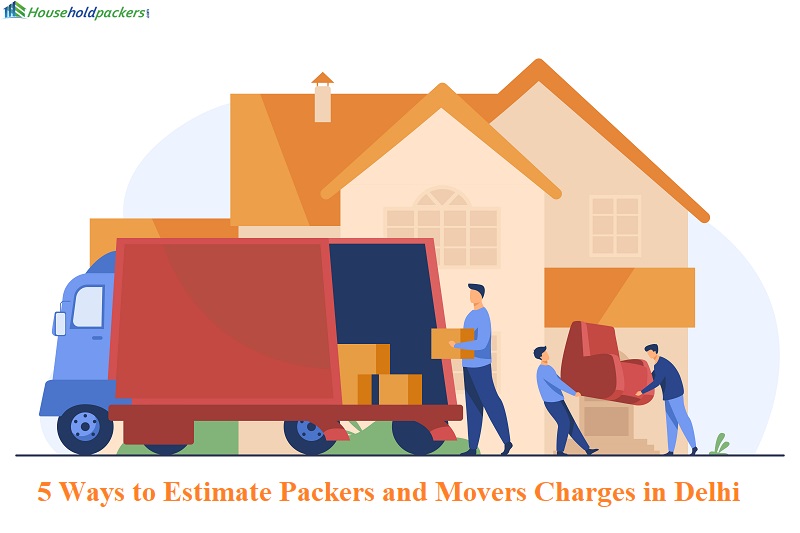 Planning to move your things from one place to another in Delhi? It is important to be aware that you need to make an estimate of the charges required for the entire process of packing and moving. If you are aware of the cost of relocating, then you can handle and plan the entire relocation procedure conveniently and without any hassle.
People often ponder how much money they need and should set aside for the entire moving procedure when they decide to relocate or move to a new location. These confusing thoughts make relocation even more challenging and stressful.
There are numerous packers and movers in Delhi. Trusting any unknown firms is not an easy task for anyone. Some firms often cheat their customers in terms of their services. There are many ways in which any packer and mover may cheat the client.
5 Ways to Estimate Packers and Movers Charges
Moving becomes so much easier with packers and movers cost estimate. Moving Cost depends on;
Packing and The volume of household items
Packing must be done very methodically and carefully especially the glass, electronic, furniture, and crockery items. Both the quantity and quality packing are needed even if the local shifting is required. Packers and movers in Delhi charges approximately 1000 to 3500 INR for this kind of packaging.
Typically Electronics aren't assembled or disassembled by packers and movers. However, they arrange for an electrician on the moving day. For AC assembly and disassembly, an electrician charges 1500 to 1800 INR. Geyser mounting can cost anywhere from 400 to 500 INR, much like mounting an LCD or LED TV will cost the same. Goods are damaged during transit. Glass, electronics, furniture, and tableware must be packed very carefully. Quantity and quality of packing influence the cost
The volume of goods to be packed determines the charges of the moving. Generally, only fragile things, such as electronics and dishware, are wrapped in good quality paper and packaged into cardboard boxes. Thus, depending on the amount of packing material that is utilized, type of furniture and other objects affect the overall fees for packaging.
Labor costs
Skilled labor takes care of your possessions starting from packing, loading, and unpacking. When there is physical involvement of labor the charges increase. For example, when there's no elevator for more than 70 meters between the truck and your house, or when you need to use a rope, you'll have to do a lot of physical work, then packers and movers in Delhi fees might be increased by 500 to 1000 INR
Shifting times-Type of vehicle-Distance to be covered
Distance plays a noteworthy part in choosing the expense of moving. The moving expense primarily relies upon the distance to be covered between the two areas. As the distance gets more, the charge of movers and packers in Delhi will also get increased. But, if you are shifting from one floor to the other within the same apartment block then the transport cost is automatically reduced.
When moving, you need to consider Delhi's automobile mobility restrictions. Large vehicles aren't allowed in the City between 8 in the morning to 12 noon and 4 in the evening to 9 pm. If you need to shift between these times, you may be charged extra.
Also, transportation in shared or dedicated vehicle influences the cost estimate. For example, if you choose a shared truck, delivery may take longer, but the costs are affordable. A dedicated truck is best for speedy delivery but the cost will escalate. Also, if the vehicle has to cross borders and state highways the tolls will affect your transit cost. The moving expense will also contain the accompanying duties such as Great and Services Tax (GST), Cost Tax, and Octroi (in the event of highway migration)
Extra services
Unpacking and reassembling the goods in the home is a laborious and time consuming task. Thus you will have to pay more for reassembling goods. Also top packers and movers in Delhi have their brand value because of their professionalism and skill. Also, they give excellent pre and after-customer assistance and tracking facilities. Hence it will cost you approximately 10% extra. Also, if you require storage solution, then top packers and movers in Delhi provide them and charge extra per day.
Insurance costs
Your goods should always be insured especially during transit. Although taking transit or All- risk insurance plan can increase the cost of relocation, but at least you will not have to suffer any financial loss if goods get damaged during theft or accident.
Calculate estimates with the latest technology online
It becomes easy to chalk out the relocation plan if you get the estimate in advance. These days' reputed packers and movers in Delhi are using modern tools for calculating estimates Technology has made it more convenient and easy with a new tool called "Packers and Movers Cost Calculator". You just need to fill out the form outlining specific details related to your relocation according to your specific moving needs.
Estimating the cost of relocation charged by Top packers and movers in Delhi makes planning and managing shifting tasks easier and more affordable. A precise estimation of the cost of moving can be obtained by providing the end-to-end locations, the volume and size of the move, the time of the move, the date of the move, etc. to Packers and Movers in Delhi.