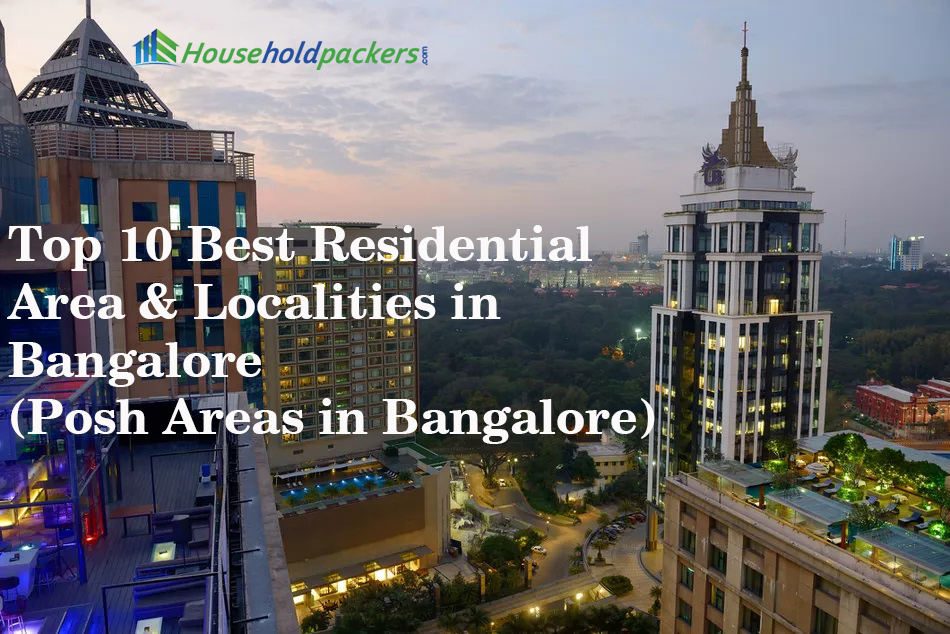 Bangalore is one of India's most popular cosmopolitan cities of India and it is a capital city of karnataka. This city is playing a prominent role in Pan India because many public sector industries, software firms, aerospace, telecommunications, industries, etc. are established in this city. This city is also known as Silicon Valley of India. Bangalore is an ideal city for everyone, so that everyone can happily coexist despite their roots. There are many posh areas in Bangalore to live a comfortable and luxurious life. A posh residential locality includes many aspects like hotels, restaurants, entertainment, religious places, commuting facilities, water, electricity supply, malls, etc. The silicon city Bangalore provides a variety of options for the residential areas suitable for those who wish to settle in Bangalore.
You can hire top verified packers and movers in Bangalore online for home shifting.
The 10 best residential areas in Bangalore are listed below.
One of the best localities of bangalore is the electronic city. This city is spread over 800 acres. This electronic city comes under the Bangalore posh area and this area has 4 zones: phase 1, phase 2, phase 3, phase 4 in total. This locality was established by Karnataka State Electronics Development Corporation (KEONICS). There are over 200 company campuses here, including famous companies like Wipro, Infosys, HCL, TCS, etc. Most of the employees of these top companies prefer to stay in and around their workspace, residential areas have been developed over years. Also, Electronic City is well connected to other areas making it easy to commute to and from.
Banashankari is another posh area of Bangalore, this locality got its name from the Banashankari temple which is located on Kanakapura road. This temple is one of the oldest and most well-known temples of Bangalore. This area has a well-built residential area and infrastructure facilities. It has all the necessary facilities for luxury living like apartments, well-known educational institutions, shopping complexes, malls, etc. The crime rate in Banashankari is almost non-existent, which makes this place a very comfortable and peaceful place to live in. This place also has various commuting options and also a traffic transit management Center which makes Banashankari one of the posh areas in Bangalore that is in great demand.
Sarjapur road is one of the popular areas in Bangalore. This place has excellent connectivity with other places like Koramangala, Whitefield, outer ring road, Marathalli, and many others. This place is also a hub of many IT companies which makes it a well-known place for residential purposes and provides you posh experience for living.
HSR layout is the most popular area under the Bommanalli constituency is Hosur Sarjapur Road Layout. This area is located in the South-east part of Bangalore. This place is popular because in this you will find a leading residential area and it is close to many IT parks and also many IT corridors of Bangalore. The broad streets, well-built parks, very organized drainage systems, etc. are also why people choose to live here. If you are residing in HSR Layout, then you have many places to entertain yourself like cafes, restaurants, and pubs to spend your quality time on weekends. HSR Layout also has many super-specialty hospitals, modern schools, etc.
This Whitefield area was established by the Eurasians and Anglo Indians in Bangalore in the late 1800s. This area got popular in the late 1900s when IT boomed in Bangalore. Whitefield has numerous shopping malls like Forum Mall, Phoenix Market City, Inorbit city, Park square mall, and many more making it one of the posh residential areas in Bangalore. This place has connectivity of buses and trains to commute. Namma Metro is also expected to be catered in phase 2 which is a huge plus point for Whitefield.
Malleswaram is one of the oldest places in North-western Bangalore. This area got its name from Kadu Malleswara temple. Many film stars reside in Malleswaram and this is the best place to live. This place is known for its heritage. In this area you will find many old cafes and hotels which shout culture and tradition like CTR, Janatha hotel, Veena stores, etc. On the whole, Malleswaram is a blend of tradition and technology which welcomes people of all age groups. The famous World Trade Center is also located in Malleswaram, Bangalore. This building has some of the top companies in the world, luxury residences, hotels, malls and more.
Frazer town is a popular suburb of Bangalore cantonment in Northeast Bangalore. Prime roads, such as Promenade Road, Netaji Road, Madhavaraya Mudaliar Road (M M Road), Haines Road, Spencer Road, Wheeler Road, Mosque Road, etc., dot this residential cum commercial suburb. It is surrounded by villages such as Cox Town, Halasuru, Indiranagar and Banaswadi.
Indiranagar is one of the new fastest developing localities of Bangalore. But it has grown in popularity and living experience because Indiranagar is surrounded by Ulsoor, Domlur, Byappanahalli, and HAL in all four directions. Though this place is quite expensive, the quality of living it offers makes it all worthwhile. Hence this can be considered as one of the posh areas in Bangalore. You can find several restaurants, multi-cuisine hotels, nightlife, and lively pubs, etc., to enjoy your free time if you stay in this locality.
You Might Also Like :